Reacho_Header
Marketing a car involves big budgets, test drives and excursions to exotic far-away lands unless you hire Photographer Felix Hernandez to accomplish the job.
Hernandez, a master of miniature photography, previously photographed a $40 miniature toy car and made it look like a $160,000 worth Audi R8. But, for his latest assignment with Audi Middle East, he created his own personal desert and roadway right in the middle of his studio.
Source: digitalsynopsis
For this project, Hernandez was tasked with making 1/43 scale models of Audi's new Q2. Even though he is the master of the miniature photography, this assignment was challenging even for him.
"Where I normally work with 1/18 scale models, for the Q2 launch I was commissioned to do a series of photographies using a 1/43 scale model," says the photographer, reports The BoredPanda. "This was my first time doing this kind of photography with such a small model."
Felix used foam core, LEDs, and sand paper to create an indoor roadway for the little Audis, while his desert was made from polvo fino, a fine powder, mixed with water and molded into a makeshift sand dune.
Although making the miniature cars look full-sized was an arduous task, Felix was able to pull it off. The settings came out looking simply mesmerising and were like the real deal and are on their way to fool millions of eyes worldwide.
Check out the awe-inspiring pictures: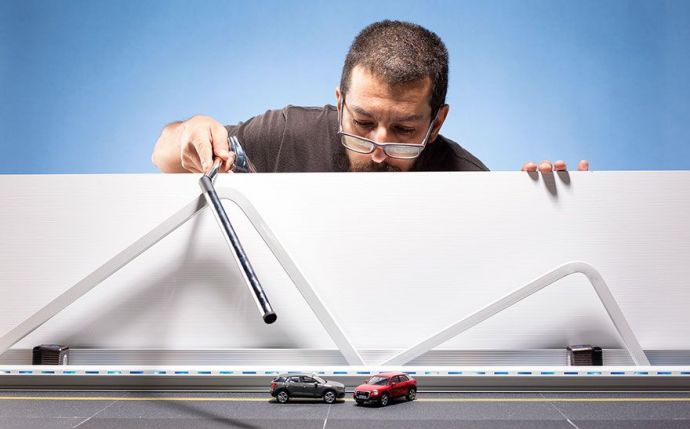 All images sourced from: Boredpanda
Title image: Boredpanda
---
Like our facebook page to stay updated. You can also download Reacho app on Android or iOS to get interesting stories at your fingertips.