Reacho_Header
With the trailer of Sonali Kulkarni and Ravi Jadhav starrer 'Kachha Limbu' garnering about a million views within hours of release, we couldn't help but tame down our goosebumps and add this on to the list of all those Marathi movies with such brilliant subject and storyline that will leave you wondering about the kind of brains the makers were blessed with.
We bring you a list of 14 such movies which have brought Marathi cinema at par with world cinema.
1) Jogva
Source: itunes
Suli is a happy, carefree girl on the point of entering womanhood who is forced into a life of serving to the local Gods and widespread superstitions that are practiced by the villagers. As Suli struggles to adjust to her new life and move on from the dreams and aspiration she thought for herself, she meets Tayappa, a man who is forced to drape a sari and live the life of a woman and a homosexual. In such wretched circumstances, they fall in love with each other and decide to start afresh and leading a happy, normal life as man and wife. But the face the wrath of a highly disapproving community that is hell-bent on destroying their union.
2) Elizabeth Ekadashi
Source: madaboutmoviez
Dnyanesh and Mukta are siblings who with their mother and grandmother live in the pilgrim town of Pandharpur, Maharashtra. The title 'Elizabeth' is a bicycle that is gifted to the talented Dnyanesh by his father after whose death Dnyanesh takes to supporting his mother. The family lives in straitened financial conditions and on the eve of Ashadhi, financial necessity forces Dyanesh's mother to sell Elizabeth to a pawn-shark. Dnyanesh and his group of friends must now find a way to recover Elizabeth which forms the rest of the movie.
3) Court
Source: brockpress
A sewerage worker's dead body is found inside a manhole in Mumbai. An ageing folk singer is tried in court on charges of abetment of suicide. He is accused of performing an inflammatory song which might have pushed the worker to commit the act. As the trial unfolds, the personal lives of the lawyers and the judge involved in the case are observed outside the court. This courtroom drama is definitely one of the best in Indian cinema.
4) Shwaas
Source: quora
Vichare takes care of his young grandson Parashuram. So, when the boy begins having trouble with his vision, a devastating diagnosis shows the boy has retinal cancer. In order to live, Parashuram will have to undergo an operation that will render him blind. As the date of the operation looms near, Vichare struggles to find a way to tell the boy the horrible truth and his desire to show him everything possible before his grandson loses his eyesight. For some reason, the surgery has to be postponed by a day. That afternoon, grandfather and grandson disappear from the hospital ward and a frantic search follows. Confronted by an angry surgeon on their return, the grandfather simply says that he wanted to show Parshya the sights of the city for one last time.
5) Kaksparsh
Source: alchetron
Hari, the head of the family arranges the marriage of his younger brother Mahadev to a pre-pubescent girl Uma. Soon after the marriage, Mahadev dies. Hari opposes the Brahmin rituals of shaving the head of Uma. Growing up, Uma takes charge of the household after Hari's wife is diagnosed with cancer. Hari's wife requests him to marry Uma post her demise. One night Hari finds Uma listening to the playful banter of his newly-wed son and leaves in disgust. He stops talking to Uma and ignores her. Uma, frustrated by Hari's behavior goes on a fast. Hari then decides to explain his behavior. He tells her that he vowed on Mahadev's pyre that he would not let any man touch Uma ever which is why even though he loved Uma, he declined his dying wife's wishes to marry her. He then decides to break his vow and marry her, but in the meanwhile Uma breaths her last so that Hari wouldn't have to break his vow.
6) Killa
Source: baysidejournal
An 11-year-old moves to a small town because of his mother's job transfer. Initially he faces challenges adjusting this place, soon he get to know his classmates who becomes friends to him. Once from school all gang decides to go for a cycle race. All of them reach to a 'Killa' and while exploring 'killa' Chinmay is left behind, sudden rains hit the place and all other friends leave him back there. He searches entire 'killa' for them and returns home very disappointed that no one cares for him. Chinmay is also unhappy asking her mom to leave this place and go back to Pune where they came from. Then some point down the line he realizes that those friends cared about him, also how his mom is trying hard to handle all pressures and this little boy.
7) Fandry
Source: haradona
Love, the most beautiful emotion in all living creatures that God has made knows no bar, caste or boundaries, is the central theme of Fandry. A young lad (Jabya) falls in love with his classmate. Incidentally, he belongs to a lower caste, a family below the poverty line which does all sorts of jobs in the village to survive like catching Pigs and the girl belongs to a higher caste. His parents are working hard to arrange money for their daughter's wedding while Jabya is collecting money for new clothes to impress the girl. Fandry is a story of his aspirations, quest, sorrows, anguish and frustrations. It also touches upon the age old monster of Caste System which is still lurking large upon the society.
8) Harishchandrachi Factory
Source: pinterest
Dadasaheb Phalke had abandoned a well established printing business after a quarrel with his business partner and gave his word that he would never enter again as competition! Phalke got instantly unemployed and workless and the family was struggling to survive. One day he accidentally stumbled across a tent theatre that was screening a silent motion picture. He was awestruck with the film and the idea of film making struck him. Along with his hardworking wife and two enthusiastic kids by his side, he ventured into a field unknown to contemporary India. Making of India's first feature film, 'Raja Harishchandra' which was a first super hit film too! In 1914, Phalke refused offers from his English friends to make films in London. His reason for the refusal was - 'I must keep making films in India, so that it gets established as an industry at home'. The rest is history.
9) Not Only Mrs. Raut
Source: bobbytalkscinema
A homeless bedraggled woman, goes to the Juhu Police Station, gives a statement that she has killed a man near the beach area with a dagger, the evidence being a bloodied dagger from her bag and places it before the Police Inspector. Her name is Vidya Raut and she has killed her former employer, Raghuvir Karkhanis for avenging the rape of her daughter. Advocate Swati A. Dandavate decides to defend her, not realizing that the Public Prosecutor in this case is none other than her husband, Aditya Vishnu Dandavate, the brother of the influential Dada Dandavate, who are dead set against a woman in their household attempting to defend a homeless woman who has already confessed to the police. Swati, nevertheless decides to go ahead with this uphill task.
10) Anumati
Source: pinterest
The movie was based on tragedy of old man whose wife was went into coma stage. She was bedridden in hospital. The cost of hospitalisation and medicine was more than the old man could afford. The story line was all about struggle of an old man to arrange money in order to keep his wife alive. Anumati is the consent that the man refuses to give to let his wife die. The main tragedy of film was at the climax of the movie when the old man die in disappointment and then his college friend (old lady) help to pay the bill of hospitalization of his wife.
11) Nital
Source: bhavinmali
The movie revolves around a girl who is MBBS, MS Ophthalmology and DNB gold medalist but suffers from Leucoderma. It traces her relationship with her life-partner and his family while highlighting the stigma about Leucoderma.
12) Gandh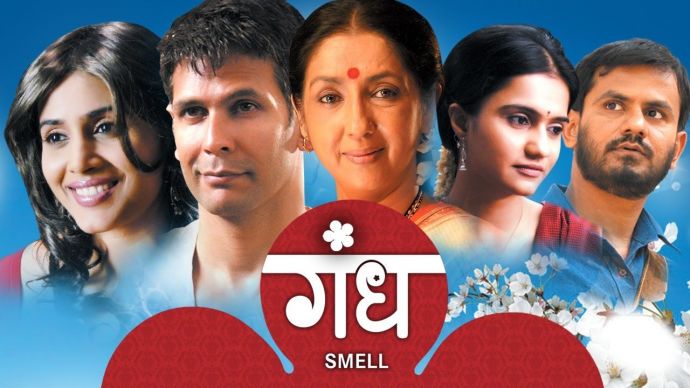 Source: youtube
Comprised of 3 stories, this one is a must-watch. The first story is about a young girl who is attracted by the fragrance of her college friend and decides to follow him to his home one night. The second one is about an HIV positive patient whose wife returns back after a year and half of separation but is irritated by a peculiar smell in the house. In the third story, a woman is amidst her menstrual cycle and isn't allowed to enter the house. It is at the same time when her sister-in-law goes into labour. The woman uses the sense of smell to gauge what is happening inside the house as she is refrained from entering.
13) Vihir
Source: pinterest
Vihir is a story of two cousins who share their love for swimming and playing hide and seek. As they grow up they struggle with the unconventional outlooks on life and their family. Sameer finds Nachiket's lonely and cut-off attitude towards the family quite strange and when he confronts Nachiket about it, he tells him about his outlook towards life which confuses Sameer even more. One odd day, Sameer learns that Nachiket has drowned in the well they often swum in. Sameer is appalled by Nachiket's death and believes that he is actually hiding somewhere. Thus starts Sameer's journey in search of Nachiket.
14) Kachha Limbu
Scheduled to be released on 11th August, 2017, this one is surely going to get you in tears. The trailer revolves around a middle class couple whose life revolves around raising their "special" child. Look out for yourself in the trailer.
Kaccha Limbu Trailer | Sonali Kulkarni | Ravi Jadhav

जगणं फक्त सुंदर नाही तर ' स्पेशल ' आहे ! अनुभवा, आमच्या साध्या माणसांच्या स्पेशल गोष्टीचा स्पेशल ट्रेलर !! #स्पेशल #KacchaLimbu #Trailer #BlackAndWhite #11August Prasad Oak SonaliKulkarni Ravi Jadhav Sachin Khedekar Mandarr Devsthali Chinmay Deepak Mandlekar Rahul Ranade Aakash Anand Pendharkar Ananth Narayan Mahadevan Amalendu Chaudhary Manmeet Pem

Posted by Kaccha Limbu on 15 जुलै 2017
Source: facebook
---
Like our facebook page to stay updated. You can also download Reacho app on Android or iOS to get interesting stories at your fingertips.