Reacho_Header
Shocked aren't you? Well, you read it right! The yummy samosa that is our all time favorite snack, the sweet round balls dipped in sugar syrup called gulabjamun, the dish with exotic and awesome spices called rajma masala and the jalebi which has an item number too, are not originally Indian dishes. Although, Indians may have added their own magic in them. Let us see where they come from!
Gulabjamun

Source: ruchiskitchen
The sweet may already have your mouth watering for it! Gulabjamun are deep fried, soaked in sugar syrup which can be eaten hot or even at room temperature. The dish will never let you down because it's simply heaven! The cool part is that the dish is enjoyed as an Indian dessert but it originated in the Mediterranean Portugal. The word "Gulab" is derived from Persian words where "gol" means flower and "ab" means water. It was first prepared during medieval India and brought by Turkish Persian invaders to India, which is now enjoyed in every small function of Indian houses.
Samosa

Source: archanaskitchen
Samosa is popular Indian snack munched by everyone that again does not have an Indian origin. This triangle shaped dish is best enjoyed by Indians over a tea or as a quick snack option. Originally called "Sambosa", the dish was brought to India between the 13th and 14th century by merchants of Middle East and Persia and is now found easily on streets of India. Even the famous poet Amir Khusro wrote about the famous dish in the 13th century which was greatly enjoyed by the princes of Delhi Sultanate.
Jalebi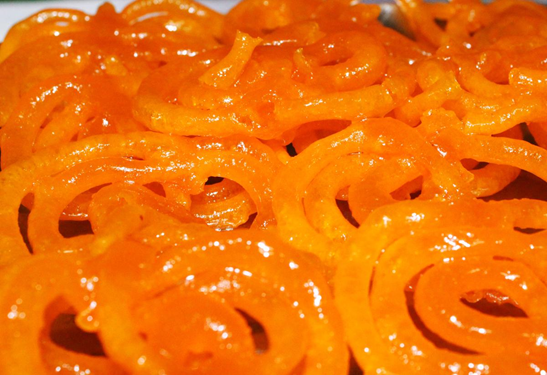 Source: maharajasweets
This sweet dish,which even has an item song associated with it, has various across Asian region. Jalebi was originally called "Zalabiya" or "Zalibia" which are Arabic and Persian words respectively. Like Gulabjamun, this dish too was brought to India by Persian invaders.
Rajma Masala

Source: recipeshubs
The yummy rajma that we eat with rice were brought to India from Mexico! The rajma masala is considered as a north Indian dish but the bean (or more specifically kidney bean) was brought to India from Guatemala and Central Mexico. The preparation that includes boiling beans or soaking them in water is adapted from Mexican recipes where it has been staple diet for centuries!
Still wondering why History is important?
Title image: youtube, ruchiskitchen
---
Like our page on Facebook.
You can also download Reacho app on Android or iOS to get interesting stories at your fingertips.