Reacho_Header
If you're finding yourselves going through those same ghise-pite websites and online stores to stock up your wardrobe, then shame-shame!
It's 2017 and the fashion police will show up at your door if you're found logged in on those old webbies! We at Reacho collated a list of these new-age online stores you SO must be shopping already from!
Here's the list:
No Nasties
When Apurva and Diti started with NoNasties, they had 'ethical fashion' in mind all along. The cotton for their apparels is grown in organic fair trade farms by small-scale farmers all over India with no GMO seeds, no synthetic pesticides, and nothing "nasty". Sassy, quirky and minimal are the brand's USP.
Source: nonasties
Nineteen51
Himay and Neehar just could understand how generic issues of sizing and unflattering designs still persisted which is when they decided to take matters into their own hands. A driving passion to discover the right balance between clean, refreshing and dynamic design – led them to the Nineteen51 journey.
Source: nineteen51
Brown Boy-
24 YO Prateek Kayan left his banking job in New York, moved back home, and started working on Brown Boy full-time. "Good Design, Good Quality and being Sustainable are part of our ecosystem. So we only use Organic Cotton to make our products. And gradually are taking steps towards being more eco-friendly," he says. A 100% 'Make in India' brand, it promotes fair trade and is thoroughly environmentally responsible.
Source: brownboy
Kultureshop-
Kunal Anand (creative director and co-founder) along with co-founders Arjun Charanjiva (CEO) and Jas Charanjiva (PR, illustrator and street artist) believe 'Graphic Art as the Art of our Times that provides commentary on a new India and reflects a dynamic Indian identity'. They curated a bunch of leading Indian graphic artists from across the world and use their work on lifestyle products at their boutique.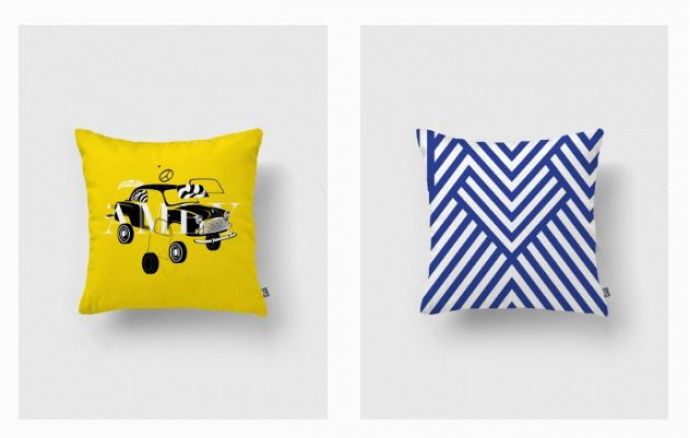 Source: kultureshop
Redwolf
Imagine a place where you'd get merchandise of Norah Jones, Skyharbour, Demonic Resurrection, Nucleya, Bhayanak Maut, Dualist Inquiry, Wolves, and Pangea. This paradise of a place is called 'Redwolf'! Ameya Thakur, Vivek Malhotra, and Rahul Jaisheel came together in 2011 to do something interesting and end up with Redwolf on their side!

Source: redwolf
Po10C Design Studio
"The 70's retro vibe has made a great comeback, thus putting black light fashion right back into the game," says 25-year-old Mehul Munwani who along with Ayush Mehra started Po10C design studio. The designs couldn't get any apt for being launched at the Bacardi NH7 Weekender. Artists from India, Russia, Romania, and Denmark come together at to design for these products which are 100% eco-friendly and bio-washed. The brand even uses inks that are manufactured from the recycled raw material.
Source: po10c
SNOB-
A menswear only label SNOB or Son of Noble's USP is its ultra-graphic, quirky, contemporary and sophisticated designs. Founder Mani Shankar Singh believes that each one of us has a snob in us and a comic lens to something that has been so far associated with someone uptight. His tryst with the fashion industry for as long as 14 years reflects visibly in his work.
Source: snob
Bhane.
Bhane. is a brand committed to create a dynamic, joyful and authentic world by being thoughtful, passionate and progressive. "Bhane. has a traditional meaning - the rising sun, but in the context of our brain, it has no meaning. What it stands for is the idea that the brand name doesn't matter, what matters is how people see our product and how they perceive the brand which could differ from person to person," says Anand Ahuja, the founder.
Source: bhane.
Information source: homegrown
Title image source: lifestorage
---
Like our facebook page to stay updated. You can also download Reacho app on Android or iOS to get interesting stories at your fingertips.