Reacho_Header
Today is 23rd August, the Internaut Day (yes, you read it right). What is Internaut day? Well on this day in 1991, the World Wide Web, created by Tim Berners-Lee, was accessed for the first time by the public. The term internaut was coined by mising Internet and Astronaut, to denote someone who has in-depth knowledge of the Internet. We all know how much we owe to www, as this eventually paved the way for Internet - the thing without which it is impossible to survive in today's world. So celebrating this day, let's remember some of the 'firsts' related to the Web and the Internet:
1. Website
The first ever website to go online is http://info.cern.ch/hypertext/WWW/TheProject.html. It is still online.
2. Browser
Source: Sciencemuseum
Worldwideweb.app is the first web browser ever created. It was created by Tim himself to index and browse web pages.
3. Online transaction
Source: Cnet
Daniel Kohn, in August 1994, created a website called NetMarket, the Shopify video reports and on August 11 sold a CD of Sting's "Ten Summoner's Tales" to a friend in Philadelphia for $12.48 plus shipping. His friend used data encryption software to send his credit card number securely.
4. Email
Source: Ialwayswondered
Roy Tomlinson is credited for creating the first barebone email service in 1971, which later gave birth to other services like IM (Instant Messaging).
5. Webcam
Source: Petapixel
It was installed at computer lab cambridge university to keep a check coffee pot and notify people if the pot was empty to prevent unnecessary long trips to the room
6. Advertisement
Source: Gossipgenie
The first ever banner ad to be used on Internet was in 1994 for AT&T's You Will campaign. The ad was placed on homepage of HotWired.
7. Message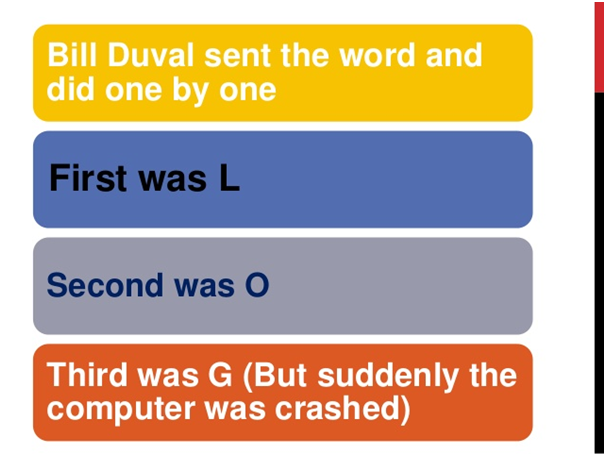 Source: Slideshare
This was the first ever message sent through ARPANET, the precursor to Internet, was 'LOG' by Bob Duval to his friend in 1969. The actual word was 'LOGIN' only first three words made through.
8. Internet Commercialisation
Source: Geektyrant
In 1995, after the word 'Internet' was officially accepted, first waves of commercialisation began, with Internet Service Providers setting up their circles and spreading the network.
Title image: Wallpaperfolder
Download Reacho on Android or iOS to get more interesting stories at your fingertips.
---
Like our facebook page to stay updated. You can also download Reacho app on Android or iOS to get interesting stories at your fingertips.