Reacho_Header
If you are suffering from the selfie clicking syndrome, then there might be a good news for you!
Source: abcnews
A museum in Glendale, California has come up with a new, quirky and never-done-before concept that showcases over fifteen exhibits and a record-breaking selfie stick measuring 90-feet, 6 inches long.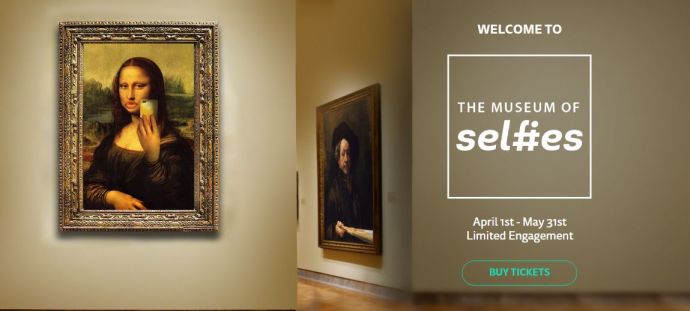 Source: museumofselfies
This extravagant LA museum opened its door on April 1 and will stay open only for two months. The doors of the museum will be closed on May 31.
Source: abcnews
Source: abcnews
About the museum of the selfies, their website reads-
The Museum of Selfies is an interactive museum that explores the history and cultural phenomenon of the selfie – an image of oneself taken by oneself – with roots dating back 40,000 years.

Visitors can explore the origin of the selfie through the lens of art, history, technology, and culture while taking some cool selfies of their very own with our interactive installations.

The Museum of Selfies promises to share the unseen depths and history of this cultural phenomenon. Whether you love them or hate them, you won't see selfies the same way again.
Source: ht
The museum beautifully exhibits iconic images of "Mona Lisa- Leonardo da Vinci's ", Vincent Van Gogh's self-portrait, Gustav Klimt's "The Woman in Gold" and Michelangelo's statue of David. All these images are brilliantly photoshopped in order to showcase the subject holding a smartphone.
Source: ht
"The Museum of Selfies" is created by Tair Mamedov and Tommy Honton and is produced by Abylay Zhakashov. Tair Mamedov is a notable stand-up comedian, writer, director, and game designer who has worked in Russian film and television and escape rooms in Los Angeles. Whereas, Tommy Honton is a writer, game designer, and narrative experience creator known best for his work in escape rooms and immersive storytelling. Abylay Zhakashov is an investor, entrepreneur and a film producer.
Information source: abcnews
Title mage: museumofselfies
---
Like our facebook page to stay updated. You can also download Reacho app on Android or iOS to get interesting stories at your fingertips.