Reacho_Header
Kowloon Walled City: A city that has a "not-so-fascinating" living culture and strives to lead a hassle-free life; once was considered to be the most densely populated place on Earth.
From 1950s upto mid-1990s, nearly ten thousand immigrants built a community sprawled across a 6.4-acre lot in Hong Kong. 50,000 people with 33,000 families were crammed into this society.
Only when a Canadian photographer Greg Girard visited this windowless world in late 80's that he discovered the other thrilling side of this incognito world.
1. An aerial view of the City, notorious for drugs and crime which later got demolished in the year of 1993.
2. It took 5 years for Greg to get acquainted with the city and click the pictures.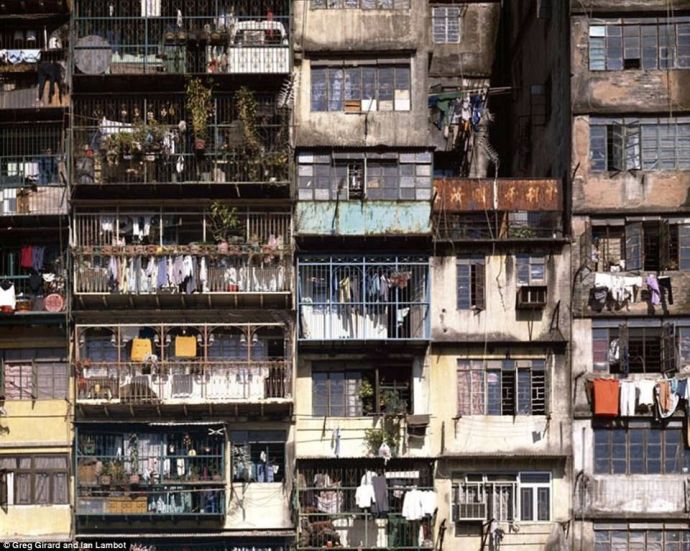 3. Astounding as it might sound, at night, schools and salons were converted into strip clubs and gambling halls.
4. A small claustrophobic shop with a tiny kid selling toilet paper, canned foods and cigarettes.
5. The city did not have proper health and safety order and had filthy alleys as fish market.
6. Despite having low crime rate, the British and the Chinese governments thought this city to be highly-intolerable.
7. While the government spent around 2.7 billion Hong Kong dollars in compensation to the estimated 33,000 families and businesses, many tried opposing this evacuation.
8. The illuminated city was also the part of 1993 movie Crime Story starring Jackie Chan and had real scenes of buildings exploding.
9. The regular life of habitants captured in the shot.
10. Heath and sanitation being the least priority, a dishevelled slaughtering place was a regular sight.
11. The city dwellers were gradually progressing towards a better living.
Source: businessinsider
12. After knocking down the city, the country then reconstructed the place with a park that today attracts photographers, birdwatchers and tourists.
Source: businessinsider
Information source: businessinsider, facebook
All images sourced from facebook
---
Like our facebook page to stay updated. You can also download Reacho app on Android or iOS to get interesting stories at your fingertips.