Reacho_Header
Koffee with Karan started off its journey for a new season with a stupendous start. India's most favorite talk show which never ceases to amaze the audience with its interesting and riveting episodes is back for a brand new season 5. And who better to kick off the season than the amazing fresh pair of Shah Rukh Khan and Alia Bhatt who wonderfully managed to set the show on fire with their mesmerizing conversations and inside jokes.
Candid confessions and intriguing gossip of the fresh pair coupled with some new changes in the format ensured a promising start to the show. Inspired by The Ellen DeGeneres Show based on the same concept, Karan introduced a new section wherein Shah Rukh was asked to recite a poem while imitating a news anchor. As always, Shah Rukh took the most of this opportunity and humorously reciprocated what was asked of him.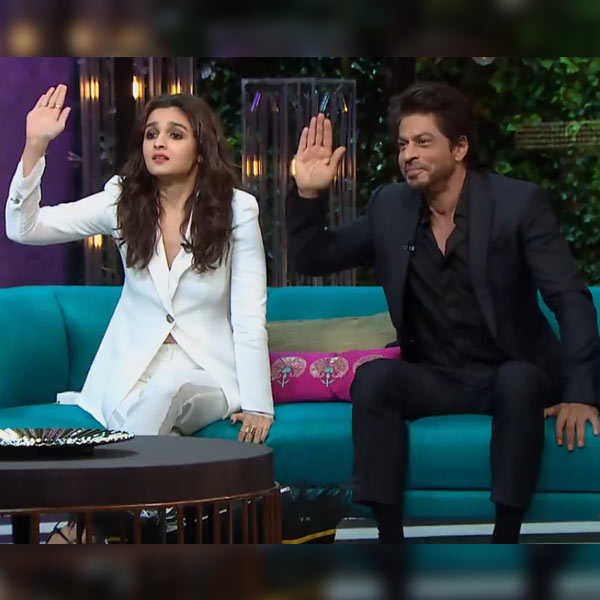 Source: Bollywoodlife
As the show progressed, it seemed as if there would be no end to this amusing and funny conversation amongst the three celebrities. Karan's usual out of the box and surprising questions were met with equally chucklesome answers from the two actors. When asked about his experience of working with Alia, Shah Rukh aptly said, "This learning experience with Alia was more than what I did with you Bhatt saab (filmmaker Mahesh Bhatt, Alia's father)". The mutual admiration displayed by the cinestars was a treat to watch. The trademark mocking of Alia on her GK in an interesting 'who knows who' round was pretty fun to watch, but on the contrary Alia did manage to give correct answers to all the questions asked by Karan.
Next episode of the show features Karan's childhood friend Twinkle Khanna and her husband Akshay Kumar which promises to be a scintillating episode. Hell yeah, our Sunday's just got much more interesting!
Title image: Youtube
You can also download Reacho app on Android or iOS to get interesting stories at your fingertips.