Reacho_Header
Envisioned by the Jetsons, the concept of flying cars is synonymous with the future and it is definitely on the horizon. Although we're not yet at the point of having actual flying cars, the concept has got one step closer when Google co-founder Larry Page shared a video of the Kitty Hawk Flyer on YouTube.
"Our mission is to make the dream of personal flight a reality," the Kitty Hawk website reads. "We believe when everyone has access to personal flight, a new, limitless world of opportunity will open up to them."
The company, Kitty Hawk which is backed by Larry Page has launched an electric aircraft, called the Kitty Hawk Flyer that looks a bit like a giant drone.
Source: engadget
Powered by eight propellers, the Flyer weighs only 220 pounds and comes in the category of 'ultralight aircraft'. It can reach speeds up to 25 miles per hour.
The Flyer is safe, tested and legal to fly in the United States as long as it is operated in uncongested areas over water. The company said it takes just minutes to learn how to operate the one-seater aircraft.
As the Flyer falls under the ultralight category of FAA (Federal Aviation Administration) regulations, it does not require a pilot's license or registration.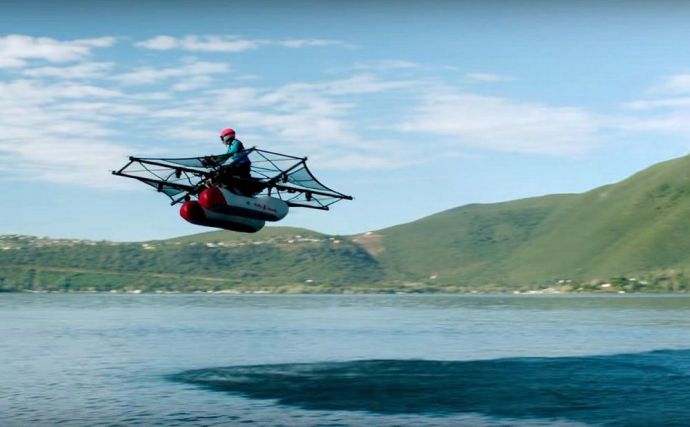 Source: newatlas
A production version of the Kitty Hawk Flyer will be available to buy by the end of the year. The current Flyer is still a prototype and the company says the new design will be quite different than the current working prototype.
However, Kitty Hawk isn't the only company who has introduced the flying car concept. Earlier this year, Dutch company PAL-V started taking orders for the world's first commercial flying car. Uber and Airbus are also looking forward to launching flying cars, and even the government of Dubai is all set to ferry passengers via a new autonomous drone passenger craft.
Check out the video to see how cool the Kitty Hawk Flyer looks:
Title image: youtube
---
Like our facebook page to stay updated. You can also download Reacho app on Android or iOS to get interesting stories at your fingertips.