Reacho_Header
"It took him 24 years and 18000 feet to find himself".
I am not a fan of war movies, not really an action lover, until I was introduced to this masterpiece by Farhan Akhtar.
source: alchetron
The story of a guy at war with himself, embarking on the journey of finding himself, leading the team when the country is at war and eventually reaching the "Lakshya" he was supposed to achieve.
A guy as uber cool in life as the climate these days:
Source:youtube
As clueless as you and me:
Source: youtube
As flawed as you and me:
Source: youtube
Until this happens:
source: giphy
Today as the whole country celebrates Kargil Vijay Diwas, thank the martyrs for their sacrifice and rejoice in the victory of India, here are a few lines from this movie to relive the war and feel the goosebumps:
For someone drew lines between humanity:
For there are shoulders who take responsibility:
"Is desh ke sau crore insaan ...Jo is vishwas ke sath sote hai, ki main aur tum jaag rahe ho."
source: rediff
For every ounce of sweat and blood matters:
"Indian Military Academy woh institution hai jo 1932 se aaj tak unginnat aise veer Officers de chuka hai, jin par jitna bhi gaurav kiya jaye kam hai!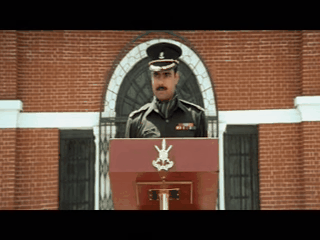 source: youtube
For some dream and very few achieve:
"Humare ladko ne Peak 5179 pe kabza kar liya hai! OBJECTIVE ACHIEVED."
source: youtube
For a thousand Thank You's would not be enough!
Happy Kargil Vijay Diwas Indians!
Title image: reviewtune
---
Like our facebook page to stay updated. You can also download Reacho app on Android or iOS to get interesting stories at your fingertips.