Reacho_Header
Proceedings of the Fodder scam saw a funny upturn when Lalu Prasad Yadav was seen making the most of his funny streak. The RJD chief told the judge, in his wittiest best that "it was very cold in jail."
But the joke failed flat when the judge replied tongue-in-cheek by asking him to "play a tabla."
Earlier, a special court had postponed the sentencing of Lalu, till Friday. The adjourning decision was taken over the issue of pronouncing the quantum of punishment in the court or over a video conference.
When in court, Lalu couldn't resist being funny and said, "It is very cold here (in jail)".
Shiv Pal Singh, the CBI special court judge, quickly replied, "Then, play tabla (a musical instrument)".
The full courtroom saw the judge tell Prasad that the latter's record has been gone through and that the fodder scam would never had happened if the vigilance was strict.
When the judge further added that Prasad had not acted promptly, the RJD chief replied in his style, saying "I am also an advocate."
For those of you who don't know, Lalu Prasad Yadav has a degree in law from the Patna University.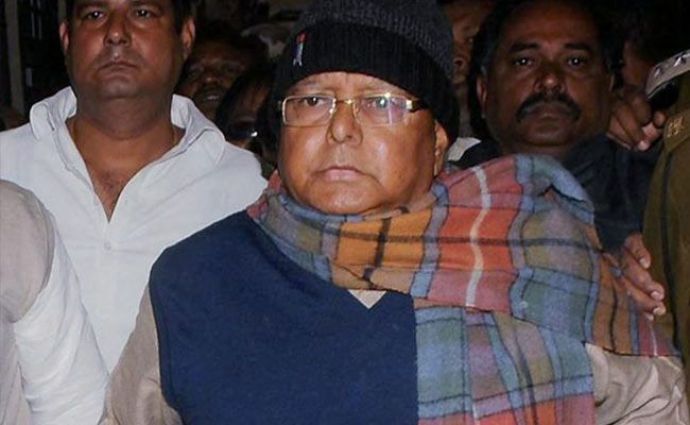 Source: ndtv
Shiv Pal Singh also brought to the knowledge that several contempt notices had been sent to Prasad's son, RJD leader Raghuvansh Prasad Singh, former Bihar deputy chief minister Tejaswi Yadav, Congress leader Manish Tiwari and RJD leader Shivanand Tiwari.
To this, Lalu appealed Shiv Pal Singh to drop the notices.
While being escorted out of the courtroom, Lalu told the judge to weigh the situation with a "cool mind".
Lalu Prasad asked for a personal appearance over video conferencing when the judge offered him an option between the two. Shiv Pal Singh said that he would decide on it on Friday.
Source: mysayin
21 years ago, approximately Rs 89.27 lakh were fraudulently withdrawn from the Deoghar treasury thus amounting to a scam called the 'Fodder scam'.
Despite Lalu's sentencing being postponed, the arguments on the quantum of sentence of the others such as IAS officer Beck Julius, political leader Jagdish Sharma, former treasury officer Krishna Kumar Prasad, fodder transporter/suppliers Gopinath Das and Jyoti Kumar Jha, ended on Thursday.
Three former IAS officers: Beck Julius, Phoolchand Singh and Mahesh Prasad were ordered to be lodged into the higher division of the Birsa Munda jail, by the court. This is where RJD supremo Lalu Prasad Yadav is put up.
Along with the RJD chief, 16 more persons were found guilty on December 23 in the case. However, Bihar chief minister Jagannath Mishra and six others were acquitted.
Information source: hindustantimes
Title image source: newsx
---
Like our facebook page to stay updated. You can also download Reacho app on Android or iOS to get interesting stories at your fingertips.