Reacho_Header
The Indore Sarafa Chaat can be a cuisine in itself.
The exotic dishes include Bhutte ka Kees, a preparation of crushed corn kernels with fresh veggies, Khopra Pattice made from crispy coconut pieces and Poha-Jalebi, a finger licking dish in the list. These dishes are of great renown because connoisseurs of cuisine come from all over the world to taste these.
Sweet assortments include mouthwatering Malpua, creamy Rabri full of Malai and Mewa Kulfi.
Food vendors have converged over the years to set up eateries along the road every evening in Indore giving rise to delicacies galore. The variety is superb, includes samosas, kachoris, pani puri, pav bhaji, chhole tikiyas and sabudana ki khichdi to name a few.
Source: smritidisaac
Here is the mouthwatering list!
Bhutte Ka Kees
Source: wordpress
The Bhutte Ka Kees, which made of grated corn garnished with coriander leaves and grated coconut, just melts in your mouth.
Khopra Pattice
Source: manjulaskitchen
The famous khopra pattice (patties) which is a speciality of the famous Vijay Chaat House is also very tasty. The pattis, which are made of khopra (dry coconut) with a covering of potatoes, are fried right in front of you and served with khatti-meethi chutney.
Poha Jalebi
Source: maharajahdriver
Indori poha garnished with sev and pomegranate seeds along with delicious jalebi. The jalebi in Indore is very light, hardly any colour or essence, made with a lighter sugar syrup. The poha-jalebi combination is unique to Indore and the combination seems perfect.
Maalpua and Rabdi
Source: youtube
Shikanji
Source: youthconnect
In Indore, it is not just lemon juice and garnish. Shikanji here is rich in all respects, made of different fruit juices and condensed milk.
Moong ka halwa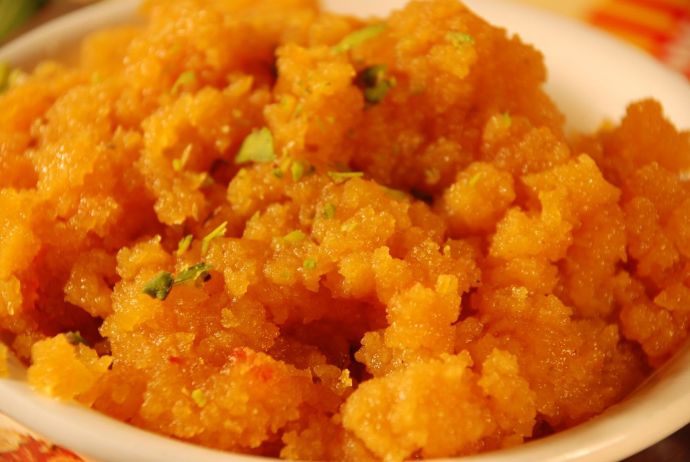 Source: shreedutt
This is not for the calorie conscious people for sure! Moong Halwa is the sweet tooth's delight and is an integral part of the dessert arsenal from Indore.
Mouthwatering, isn't it? Have your fill of the best of Indore's Saraafa at the Reacho Food Festival.
Title image: kanigas
---
Like our facebook page to stay updated. You can also download Reacho app on Android or iOS to get interesting stories at your fingertips.