Reacho_Header
After an amazing 2017, India's highest ranked female shuttler, P.V Sindhu, on Wednesday, took to Twitter to announce the launch of her new app.
Sindhu said that she was very pleased to announce the launch of her own application for both Android and iOS. The main purpose of the app is to help her interact with her fans better.
Hey guys, I'm extremely excited to announce the launch of my official app. PV SINDHU OFFICIAL APP is now available on iOS & Android. Go Download it immediately and connect with me!
Just go to https://t.co/9VCIBHCqa6#PvSindhuOfficialApp pic.twitter.com/2nCiGIWGpn

— Pvsindhu (@Pvsindhu1) December 27, 2017
The app, that goes by the name P V Sindhu Official App, is Sindhu's gesture to thank her fans who have consistently supported her.
Fans using the app will get access to exclusive videos and other posts from Sindhu and it also gives them a chance to interact with her. The app also has a live chatting option, where fans can talk to the shuttler.
During her first 'welcome video' on the app, Sindhu encouraged her fans to install the app and thanked them for the love and support. Users can also unlock exclusive contests and more content as fans boost their star ratings. The app also allows fans to interact with each other and create communities. The users can also share their own video messages.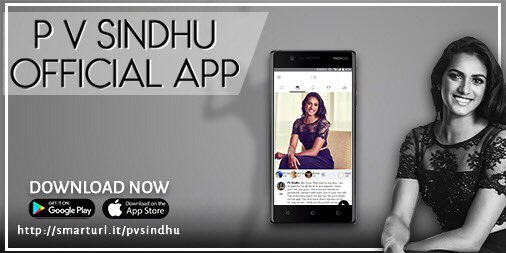 Source: twitter
Another interesting feature of the app is that it allows fans to make communities and interact with each other. Sindhu, in her first live feature, thanked her fans for the constant love and support.
The shuttler is currently active in the third season of the Premier Badminton League.
Cover image source: odishabhaskar
Information source: inshorts
---
Like our facebook page to stay updated. You can also download Reacho app on Android or iOS to get interesting stories at your fingertips.