Reacho_Header
When it's Ganesh Chaturthi, its Ganesh Chaturthi all over the world.
Mumbai may be battling a downpour but that sure hasn't dampened the spirit of the people there when it comes to Bappa's festivities. Taking a cue are the people of Spain who, even though miles away from India and the festivities at galore, have not let distance affect their 'Phir bhi dil hai Hindustani' attitude.
Ganesh Chaturthi has been as much a celebration in the city of Ceuta, Spain as in India. The residents there stick to performing every ritual, right from the Sthapana to Visarjan, without fail. The celebration of this Indian festival brings together people of various cultures, much like it brings together people of various caste, class and religion back in India.
People coming together for the Visarjan and immersing the idol of Bappa into the Mediterranean Sea is a sight not to miss.
Photographers from all across the world come down to capture this beautiful sight and the fanfare. The pictures bear witness to the fact that people of different cultural backgrounds and races can be much in unison and harmony while celebrating each others' festivals.
Ceuta has hosted the Sthapana of Bappa for many years now. The Indians residing bring home an idol of Ganesha, worship him and on the last day organize a procession to immerse the idol into the sea. People from the procession hop into numerous boats and set sailing into the sea for immersion of the idol.
This year too, Ceuta saw the festival being celebrated with much gusto. We bring you a sneak-peek of this year's celebrations-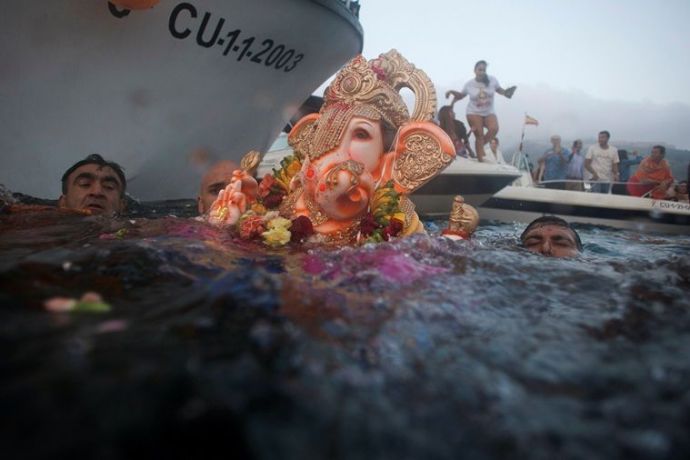 Ganesh Chaturthi, also known as Vinayak Chaturthi is celebrated to mark the birth of Lord Ganesha. The festival started on August 25th and will end on September 5th. Ganesha is the God of all beginnings and worshipped before the start of any ceremony. He is also known to bring prosperity and remove obstacles.
Information & images source: indianexpress
---
Like our facebook page to stay updated. You can also download Reacho app on Android or iOS to get interesting stories at your fingertips.