Reacho_Header
We brought you Season One, Two and Three in the past 3 days. Hoping you're gripped and geared up about the 4th one as well. So let's dive in, shall we?
1) Making of 'Reek'
Source: eonline
It is revealed in this season that the unknown captor of Theon Greyjoy is Ramsay Bolton, the bastard son of Lord Roose Bolton. He tortures Theon to such extent that Theon begs to be killed instead. But the depraved sadist that Ramsay is, he keeps him alive and names him 'Reek'.
2) The Purple Wedding
Source: vanityfair
King Joffrey and Margaery Tyrell are wedded. After an offensive play staged to belittle his uncle Tyrion, he is suddenly overcome by poison and dies.
3) Tyrion imprisoned
Source: giphy
The tension between Tyrion and Joffery at the latter's wedding makes Cersei accuse Tyrion of poisoning Joffrey. She gets him arrested and sent for trial where the witnesses, including his lover Shae testify against him.
4) The last of Prince Oberyn
Source: gameofthronesfact
After the losing the trial, Tyrion pleads for a trial by combat. Cersei appoints the Mountain as her champion. Both Jaime and Bronn refuse to champion for Tyrion. Prince Oberyn from Martell who had arrived to the royal wedding only for the revenge of his sister's rape and death, takes this opportunity to seek his revenge and fights on behalf of Tyrion. Unfortunately, Oberyn's skull is crushed and the Martell scion killed by the Mountain.
5) Sansa flees and freed!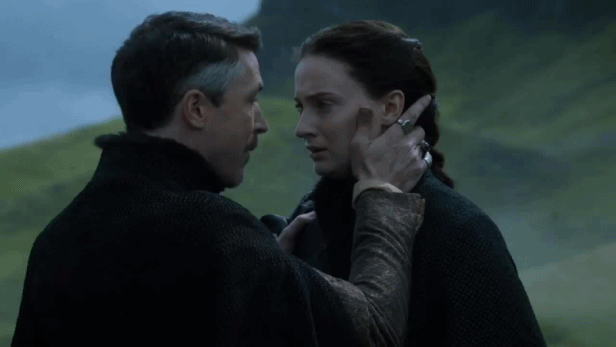 Source: winteriscoming
Littlefinger takes the wedding catastrophe as an opportunity to flee Sansa from King's Landing. He takes Sansa to the Eyrie where he asks her to pretend to be his niece. Later when Lysa Arryn - who is the Queen of the Eyrie and in love with Littlefinger - catches him kissing Sansa, she threatens to push her from the Moondoor. Littlefinger hears this and pushes Lysa instead, to her death.
6) Tommen, the king
Source: fansided
After Joffrey's death, Tommen is crowned as the new king by his grandfather, Lord Tywin Lannister. Olenna Tyrell hatches a plan for Margaery to lure Tommen into loving her so that she remains queen even after Joffrey's death.
7) Arya and the Hound
Source: popcultureplayground
Arya is spotted water dancing by the Hound on Kingsroad and angers her by mocking her fighting style. He decides to ransom Arya to her Aunt Lysa and sets off towards the Vale. On reaching they learn that her aunt is dead. They have a chance encounter with Brienne, who is a sworn sword to Catelyn and is supposed to protect the Stark children. Arya refuses to go with Brienne and has a brawl with Clegane. She wounds him gravely, throws him off the cliff and leaves him there to die inspite of him pleading to be killed instead.
8) The end of romance
Source: popcultureplayground
The wildlings attack Mole's Town. At the Night's Watch when Ygritte sees Jon kill Styr, she readies herself to kill him but is killed by Olly before. She dies in Jon's arms. Get me some tissue, please?
9) Tywin's end
Source: metro
Tyrion is released by Jaime and is smuggled to Westeros with the help of Varys. However before leaving, Tyrion decided to go to his father's chamber to confront him. On finding Shae in his father's bed, he strangles her first for betraying him and then goes on to kill his father in privy.
10) Dragons get dreadful
Source: tvguide
The babies of Daenerys start disobeying their mother and go on to create mayhem. When in the last scene, a citizen brings to her the charred body of his daughter, she decides to chain them in a vault.
We'll be back here with Season 5 tomorrow. Don't miss out!
Title image: vixenvarsity
---
Like our facebook page to stay updated. You can also download Reacho app on Android or iOS to get interesting stories at your fingertips.