Reacho_Header
Released on 23 October 2015, 'Hello' the piano ballad was the soulful song which celebrated nostalgia and portrayed regret. The music video broke the VEVO RECORD by achieving 27.7 million views within 24 hours.
Well, what conquered the internet world was the (in)famous Adele Hello Meme! And although it has been a year we still cannot get enough of the pun filled phone conversation.
Say hello to the nostalgia of Memes:
Because for you, a thousand times over:
Source: buzzfeed
When you get ignored in a group chat: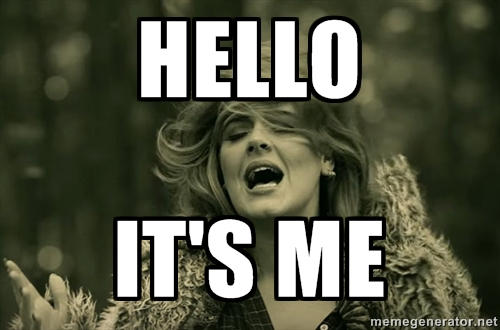 Source: memegenerator
Why did Adele cross the road?......to say hello from "the other side"
Source: theodysseyonline
When you meet your fellas after a long time:
Source: crazyhyena
Bae alert:
Source: relatably
Makes sense!
Source: taringa
Because…….HELLO? its emotions!
Source: ifunny
Because she meets the boundaries beyond irrationality:
Source: ifunny
Because mom is purchasing raashan and she needs a bag, you stand outside with your phone in your hand and she be like:
Source: mic
Title image: bustle
---
Like our page on Facebook.
You can also download Reacho app on Android or iOS to get interesting stories at your fingertips.