Reacho_Header
Well, shredding fake news and rumours are too easy on social media. Every second day there is some new rumour on social media and without thinking people start spreading it all over. This time veteran actress Farida Jalal became the new victim of this hoax.
On February 19, a news started trending on social media that DDLJ actress Farida Jalal died, and as usual the whole world come out to show their sympathy and condolences by posting and sharing the rumour.
Her Wikipedia page too made people believe that she is no more.
Source:indianexpress
At last the 67-year-old actress took to Twitter to confirm that she is healthy and alive. "I am here to confirm you that I am alive. News of my death is nothing more than a rumour. Stop spreading fake & false news."
While talking to DNA the actress quoted, "I am hale and hearty. I don't know where these baseless rumours are coming from. Initially, I laughed, but from last 30 mins my phone have been constantly ringing and everybody is asking the same question. It's a bit irritating, I wonder why people spread such rumours."
Here are some condolence tweets which rolled in after the rumour.
Source: twitter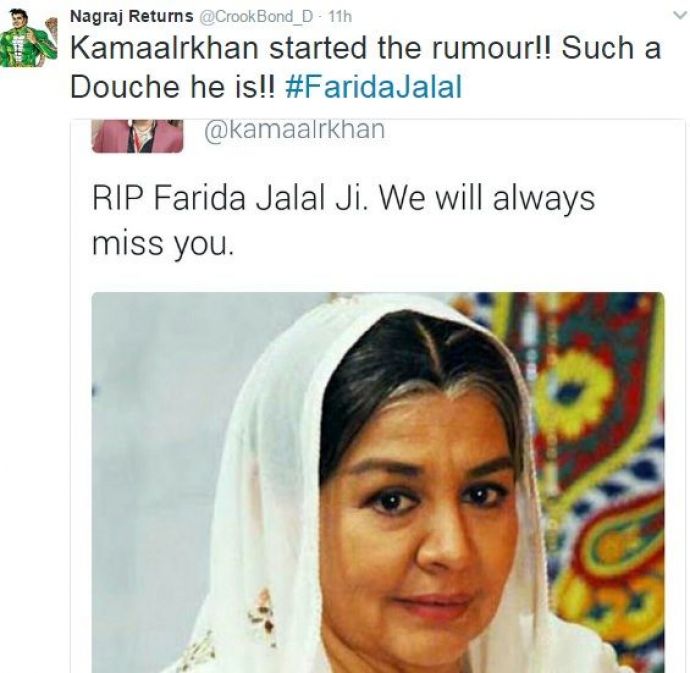 Source: twitter
Source: twitter
Source: twitter
Title Image: hindustantimes
---
Like our facebook page to stay updated. You can also download Reacho app on Android or iOS to get interesting stories at your fingertips.