Reacho_Header
We all love flabby-looking-cute dogs but ever thought of working on his extra plump? One family actually did and they went to an extent where they actually managed to bring back him in a proper shape.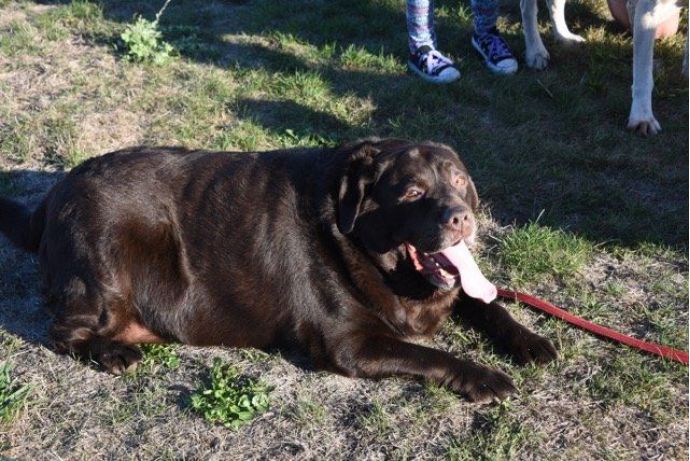 When Heidi Fiore and her husband lost their dog (Labrador) they decided to get a dog for the family. After stumbling upon a Facebook post that suggested a lab needed a home, the couple went to adopt him.
In an interview to the dodo, Fiore told,
He was the heaviest dog I had ever seen in my life; he looked like one of those huge pigs you see at the farm. All I could say was, 'Oh my God,' over and over.
The lab is named- Shiloh and weighed 146 pounds, twice of his original weight. The poor dog was so heavy that moving around was a big task for him. He took around 15 breaks every time he went for a walk and would somehow manage to fit himself in the back of the family's minivan.
Obesity is good for none, be it a dog or a man. Fiore took his obesity seriously and did a good research on dogs weight loss program, they went to the vet and for monthly weigh-ins.
Fiore further said,
He went on 'healthy weight' diet food, eating two scoops a day. We supplemented his food with green beans and canned pumpkin (for dog weight loss). No treats, or leftovers! I also gave him supplements for his joints because being that heavy obviously can take a toll.
With healthy eating, Shiloh also got himself into exercise and daily walk. Fiore added more on his weight loss journey,
One time he plopped down in the middle of an intersection and would not budge for at least 20 minutes, and another time right in the middle of men doing road work. Luckily they got a kick out of him. I thought he was being stubborn but as he shed the weight I realized he really could not physically do it. He immediately became a popular guy in our neighbourhood and he had lots of people cheering him on throughout his weight loss journey.
Well, the hard work paid off and the transition was unbelievably awesome!
Here's the dashing look of Shiloh after his incredible weight loss regime:
Information source: thedodo
All images sourced from thedodo
---
Like our facebook page to stay updated. You can also download Reacho app on Android or iOS to get interesting stories at your fingertips.