Reacho_Header
Nitish Kumar proved once again how good a politician he is. Regardless of whether he should or should not have flipped sides like this, it is clear that his future looks quite bright as of now. As Lalu Prasad and his family get embroiled in the hotel scandal, Nitish Kumar escaped unscathed from the episode, perhaps anticipating some of the things in advance. Now, with a key figure like Nitish Kumar going the way of BJP, winning the 2019 elections will prove to be a very tall order for the Opposition.
1. Nitish Kumar says will give befitting answer to Lalu Prasad
Source: Hindustantimes
Nitish Kumar shocked everyone yersterday when he resigned as the Chief Minister, broke the mahagathbandhan, and then took oath again with the support of the BJP. Lalu Prasad Yadav called this a betrayal on which Nitish Kumar said that his commitment is for the people of Bihar and that he will give befitting answer.
Click here for details.
2. PM Modi urges people to help realise Kalam's dream
Source: Ndtv
Prime Minister Narendra Modi, talking during the inauguration of late President A PJ Abdul Kalam's memorial at Peikarumbu in Rameswaram, Tamil Nadu, asked people to come together to help realise Kalam's dream of a developed India by 2022, the year when India will celebrate its 75th Independence Day.
Click here for details.
3. Report says Pervez Musharraf considered attacking India with nukes
Source: Indiatoday
Tensions were high in the aftermath of 2001 Parliament attacks and then Prime Minister Atal Bihari Vajpayee had issued a strong statement against the attack and Indian forces were mobilised at the border. Now, a media report claims that Pakistan's former military dictator Pervez Musharraf had considered the use of nukes at that time but then decided against it, perhaps fearing retaliation.
Click here for details.
4. Visa, Tibet issues have been raised at bilateral meets with China: Sushma Swaraj
Source: Indiatoday
External Affairs Minister Sushma Swaraj, when asked about the issue of China issuing stapled visas to residents of Arunachal Pradesh, said, "the issue has been raised in every bilateral meeting at various levels, be it at my level or that of the Prime Minister. The issue has been raised by us." She added that India hasen't been a mute spectator about Tibet atrocities either.
Click here for details.
5. Other nations look carefully as India-China tensions unfold
Source: Livemint
The meet between National Security Advisor Ajit Doval and his Chinese counterpart Yang Jiechi will be instrumental in trying to solver the border issue and will be watched by many. A confrontation between two major nuclear powers is something that nobody wants with a US official stating that they are following the developments closely.
Click here for details.
6. US Pacific Fleet Commander says will launch nuclear strike on China next week if President orders it
Source: Wikimedia
Responding to an hypothetical question, US Pacific Fleet Commander Admiral Scott Swift said that he would launch a nuclear strike against China next week if President Donald Trump ordered it. He added, "every member of the US military has sworn an oath to defend the Constitution of the United States against all enemies foreign and domestic and to obey the officers and the president of the US as commander and chief appointed over us."
Click here for details.
7. Facing stiff competition from Reliance Jio, Idea posts losses of Rs 816 crore
Source: Businessworld
"The upheaval in the Indian wireless industry continued in the first quarter of financial year 2018, despite the new entrant slowly migrating from 'free services' to 'paid services' but with heavily discounted unlimited voice and data pricing plans," Idea said in a statement, explaining its losses worth Rs 816 crore in the first quarter.
Click here for details.
8. Whatsapp creates new record with a billions daily users
Source: Deccanchronical
In spite of competition from some up and coming players like Google Allo, Whatsapp continues to be the choice of majority of people with the app now boasting more than a billion daily users. The company also revealed that more than 55 billion messages are exchanged every day.
Click here for details.
9. A deep space habitat for longer trips being developed for NASA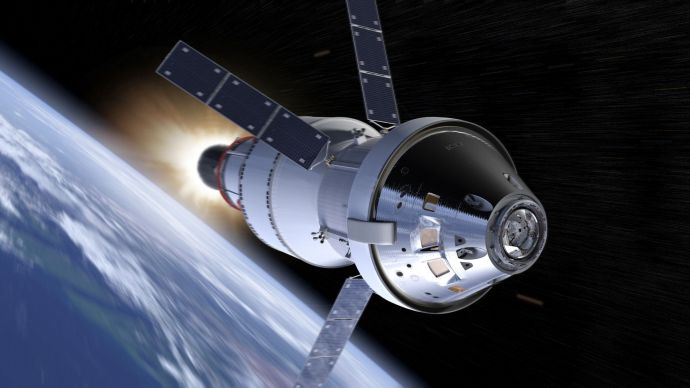 Source: Nasa
It has been clear for quite some time now that space exploration is the future especially if we continue to destroy our home planet. "Something as simple as calling your family is completely different when you are outside of low Earth orbit. While building this habitat, we have to operate in a different mindset that's more akin to long trips to Mars to ensure we keep them safe, healthy and productive," said Bill Pratt, Lockheed Martin NextSTEP programme manager, explaining the reasoning behind this.
Click here for details.
10. Matter from outside our own galaxy may have contributed to life on Earth
Source: Newscientist
A study by a team of researchers from Northwestern University found that our galaxy, the Milky Way, may have acquired a significant amount of its matter from intergalactic transfer, which was based simulations that showed that supernova explosions eject copious amounts of gas from galaxies, which causes atoms to be transported from one galaxy to another via powerful galactic winds. This could mean that this could have also contributed to life on Earth.
Click here for details.
---
Like our facebook page to stay updated. You can also download Reacho app on Android or iOS to get interesting stories at your fingertips.