Reacho_Header
The Chinese are known for their innovative ideas and techniques to solve problems and these engineers did something beyond our imagination. They moved a 135-year-old Buddhist monastery in Shanghai as a whole.
Workers started moving this renowned temple by pushing the entire structure using purpose-built rails. The building that weighs over 2000 tonnes, was moved 100 feet (30.66 meters) to the north as a part of a restoration project.
The Grand Hall, which is the main part of this 135-year-old Jade Buddha temple is a protected historic building complex in central Shanghai.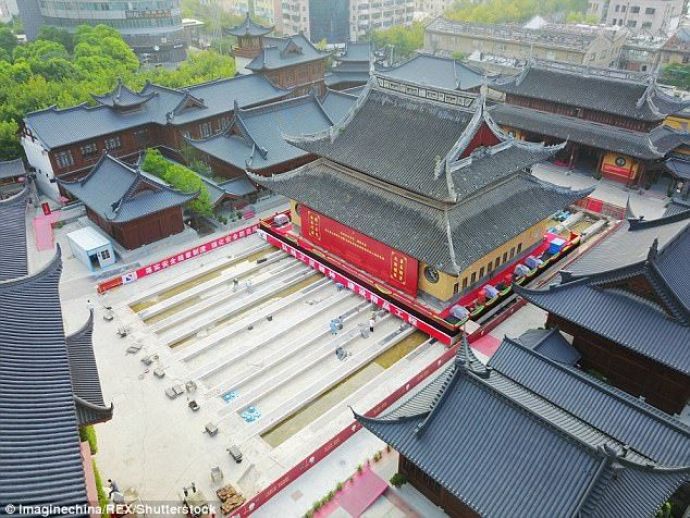 Image source: dailymail
The moving began on the 2nd of September and went on for a week. The structure was moved 20 feet everyday along the rails. It was also elevated 0.3 meters everyday. Once the structure reached its new site, the workers further raised the temple from its previous location by 1.05 meters (3.44 feet).
The decision to move the temple was taken to tackle the overcrowding issue of the Jade Buddha Temple and is a part of an ongoing restoration project which began in 2014.
Workers lifted up the temple with over 40 hydraulic jacks prior to the ambitious move. They built rolling tracks under the temple to help push the 2,000-tonne structure. Stilts were fitted under the temple to keep a track of the progress of the relocation.
Image source: buddhistdoor
Feng Kangyi, an engineer involved in the project, told news site Sixth Tone, that the difficulty of the project is to protect the hall's integrity as well as the large statues.
A new concrete foundation was also built for the hall, as its original foundation was too fragile to move. Scaffolding was used to protect the three main statues inside the Grand Hall.
"We've given each Buddha two layers of protection, one around the shoulders and one around the waist. This way, the statue would be "hugged" firmly by the materials," said Shen Junqi, a project manager in charge of the restoration of Jade Buddha Temple, while talking to the China Central Television Station.
The relocation project was kicked off by a grand ceremony at 10 am on September 2, attended by the abbots from the monastery and the government representatives.
Hundreds of Buddhist prayers also gathered from different parts of the city to witness the important moment.
Cover image source: visitourchina
---
Like our facebook page to stay updated. You can also download Reacho app on Android or iOS to get interesting stories at your fingertips.