Reacho_Header
Goddess Durga is accompanied by her son Lord Ganesh and Kola Bou is his wife. So the seventh day of Durga Puja is celebrated keeping her in mind.
Kola Bou or Nabapatrika is given a pre-dawn bath. This is an ancient ritual of worshiping nine types of plants. Nine plants collectively signify nine Goddesses, nine aspects of Goddess Durga. Nabapatrika being an important part of Durga Puja, is worshipped during Bodhon. The nine plants of Nabapatrika represent the nine Goddesses. The Banana plant or the Kola Gaach represents Goddess Brahmani, Colocasia plant represents Goddess Kalika, Turmeric plant symbolises Maa Durga, Jayanti denotes Kartiki, Bel or wood apple Goddess Shiva, Pomegranate is Raktadantika, Ashoka tree symbolises Sokarahita, Arum plant represents Chamunda and the Rice plant, Goddess Lakshmi. These Goddesses are the nine forms of Maa Durga.
Source: flickr
In the early hours of Saptami, the twigs of white " Aparajita " plant along with nine bunches of yellow threads are used to tie the Nabapatrika. It is then bathed. In our scriptures the elaborate bathing ritual of Nabapatrika is compared with the coronation of a King. Just like the King is bathed with waters from holy places and oceans, bathing Nabapatrika too requires the same. All the nine Goddesses representing Nabapatrika are bathed with waters from 8 different holy places. This bathing ritual is accompanied with varied mantras and diverse musical instruments for different goddesses.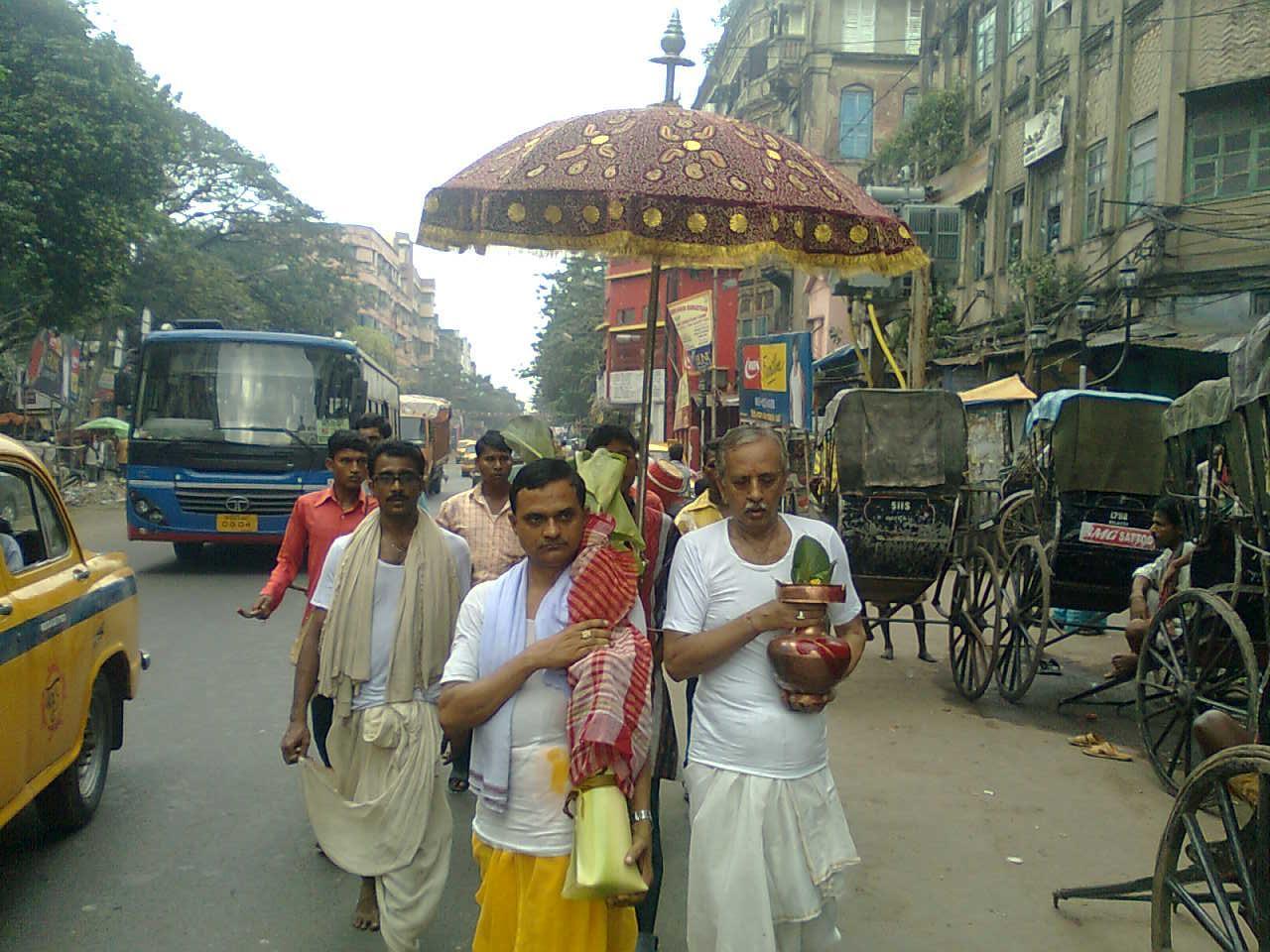 Source: durgapujaonline
The procession starts with a priest carrying the Nabapatrika, preceded by dhakis and followed by the women of the house blowing conch shells. After the bath the Nabapatrika is returned to the site of the Puja, wrapped in its sari and placed to the right of Maa Durga.
Source: wordpress
Kola bou in reality has no relationship with Ganesh. Our scriptures call her Nabapatrika. Interestingly enough, Nabapatrika was actually a popular ritual performed by the peasant folks for prosperous harvest. As idol worship was not common then, people worshipped Mother Nature.
So Saptami is a day rooted both in nature and women and symbolizes that Indian mythology supports matriarchy from its very core!
Title image: wikipedia
You can also download Reacho app on Android or iOS to get interesting stories at your fingertips.