Reacho_Header
Durga Pujo Special: 11 Bollywood Movies Which Capture The Essence Of Bengal!
With the onset of Durga Pujo and Instagram sneak peeks of Meri Pyari Bindu starring Ayushmann and Parineeti Chopra, we realised that we have Kolkata to thank for, for giving us cult classics through decades! The City of Joy also happens to be the safe haven of cinema and directors leave no stone unturned in capturing the colours of Bengali life on screen.
Not just the grand Pujo Pandals and the Rajbaaris, but the city in itself is a story and these movies narrate it in their own beautiful way!
So bring on the Bengali festival fervor by taking a look at these worthy depictions of Bengal!
1. Amar Prem
Source: sukanya
The 1972 drama by Shakti Samanta, was based on a Bengali short story Hinger Kochuri by Bibhutibhushan Bandopadhyay. A school boy, who was ill-treated by his step mother becomes friends with a prostitute neighbour. Sharmila Tagore played the prostitute with a heart of gold, with Rajesh Khanna in the role of a lonely businessman who comes to care for the little boy. "Pushpa, I hate tears!" is still pure gold!
2. Devdas

Source: youtube
Sets! Grandeur! Shahrukh! Madhuri! Aishwarya! Sanjay Leela Bhansali! This extravagant big budget production is still one of the best works of Bollywood ever!
3. Parineeta
Source: planetbollywood
Vidhu Vinod Chopra is a magician and Parineeta was simply magic! From the toy trains of Darjeeling to the naukas of Hoogly - Parineeta is a double delight accompanied by stupendous acting by Vidya, Saif and Sanjay Dutt!
4. Yuva
Source: wallpapers
Abhishek and Rani pulled off the roles of bold youngsters in Kolkata with ease and elan in this 2000 movie!
5. Kahaani
Source: campusghanta
Kahaani was a game-changer in many ways, as it stayed away from the stereotypical Bollywood portrayal of Kolkata (just Howrah Bridge - Victorial Memorial -Trams), and showed the city in all the murky glory of its dangerous bylanes and nooks.
6. Gunday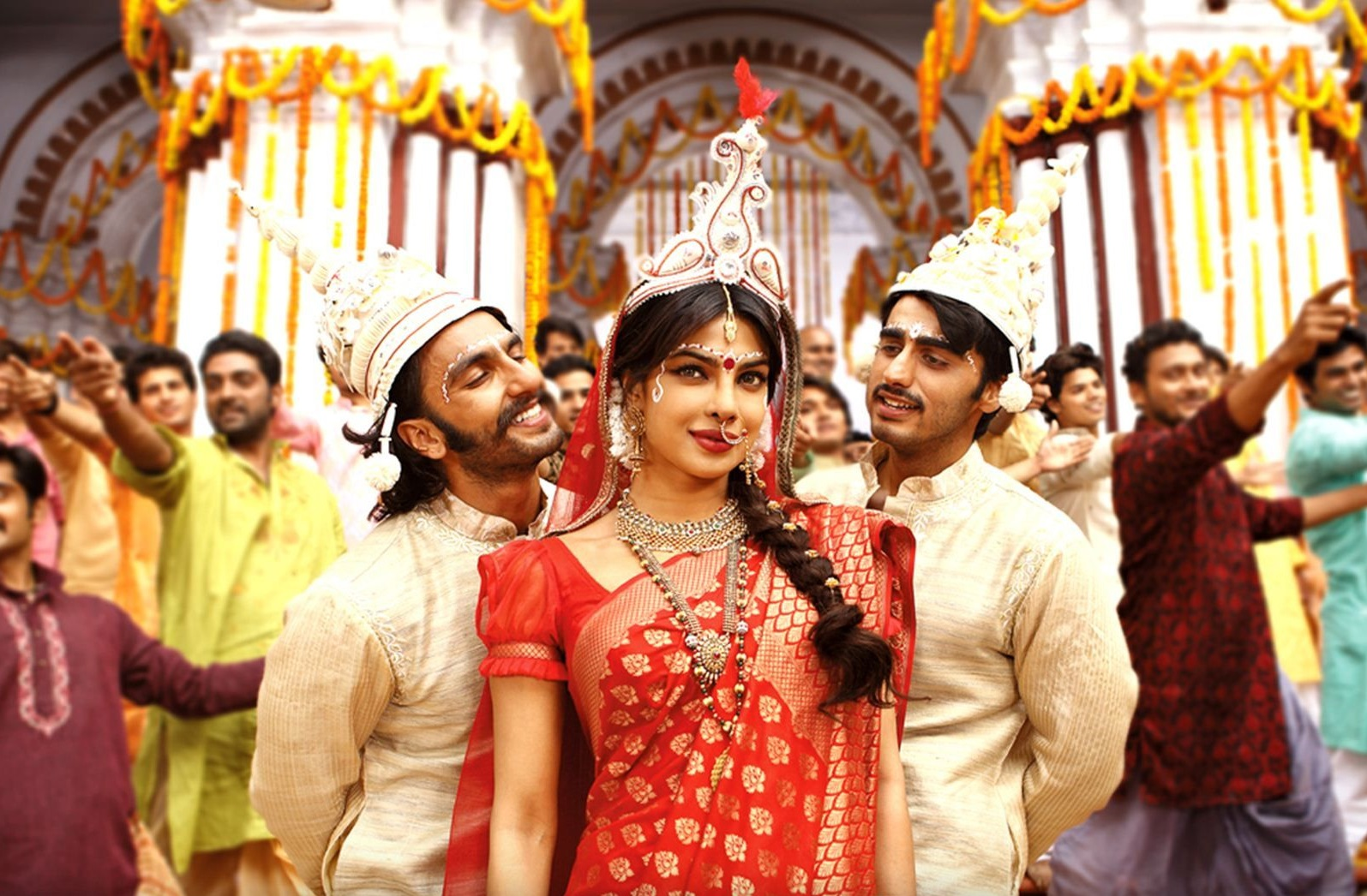 Source: wordpress
Oh shonduri..
Tomar monta diye jao
Tara tari eshe jao
Bengali word's meaning:
(Shonduri: Sundari; Monta: Dil; Tara tari: taada taadi)
Tang tang tang…
Swinging already, aren't you?
7. Barfi
Source: bollywoodlife
When painter Anurag Basu is given Kolkata as his canvas to paint it with Ranbir and Priyanka, the final product is nothing short of a masterpiece and Barfi was just that!
8. Detective Byomkesh Bakshy!
Source: koimoi
The movie might have been a dud, but it captured the life of Kolkata just fine! Bangla classic as it is Byomkesh Bakshi is a perfect assimilation of all things old Bong style!
9. Te3n
Source: thehindu
Remake of the 2013 South Korean film Montage, this crime thriller revolved around a kidnapping where the protagonists were Amitabh, Vidya, Nawazuddin and Kolkata!
10. Lootera
Source: santabanta
Like two sides of a coin even Bengal has its lights and shades. While Kolkata is all about the fast pace and life, the interiors are about tranquil stories, Lootera being one of those!
11. Piku
Source: ndtv
Movie of the Bongs!
Movie by the Bongs!
Movie for the Bongs!
Epic Shit! Period!
Turn on the Bangla fever now will you?
Title image: indianexpress
Download Reacho on Android or iOS to get more interesting stories at your fingertips.