Reacho_Header
Bengalis are foodies and Durga Pujo is mainly about food! They do believe in worship and observe Uposh (Fast) till the Anjoli but break it with elan, feasting on lavish Bhog followed by the nights of varied types of chicken, mutton and fish dishes! Desserts are a different affair in themselves too! So here we present to you the Food Checklist for the season! Make sure you get a tick on of these to your fill. Your stomach might be a little too full but trust us, your hearts won't!
1. Dimer Devil
Source: jayeetacha
Every Pujo Pandal is full of food stalls but the most crowd pulling stall is the Dimer Devil (Egg Cutlet) which gets all sold out as soon as the crate appears! Delicious eggs packed in a rich covering of potatoes and vegetables, deep fried to a crisp brown!
2. Mutton Biryani
Source: biryanihyderabadi
Now Bengalis are accompanied by their large appetite which is really difficult to satisfy! So in case you are one or happen to know one, make sure you resort to some awesome Mutton Biryani which is double delight, given the taste and quantity!
3. Luchi Aloor Dom
Source: theepochtimes
This is the staple Pujo brunch once you done with your Anjoli and stuff. Luchi Aloor Dum is the perfect ingredient in the mix of festive banter and the gastronomic gaiety that is Durga Pujo!
4. Khichudi Begun Bhaja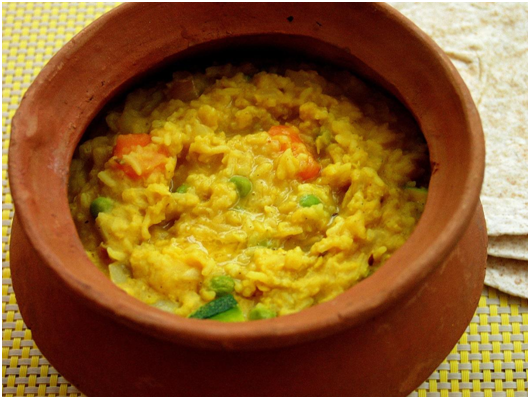 Source: chilliandmint
Source: dishmaps
As mentioned earlier, during the Pujo days people fast and end it with a lavish feast that includes Khichudi laden with Kopi (Cauliflower) and peas with tasty Labra, Shukto and Daalna (mixed veg) on the side! The star marked dish on the plate and otherwise is the Begun Bhaja which is relished by one and all!
5. Tomator Chutney
Source: foodlovingdad
The afternoon feast must end with Tomator Chutney which is a must because it is made rich by adding dates and pineapples to suit all tastebuds!
6. Ilish Machher Jhol
Source: blogspot
Unlike other communities, Bengalis do not believe in renouncing non veg during these festivities, rather, they enjoy to the hilt! So it practically rains fish during Durga Pujo and if you happen to be at a good feeding Pandal, get ready to served with Ilish Macher Jhol Bhaat which will give you a different kind of high, no doubt!
7. Mutton Cutlet
Source: ndtv
Pandal Hopping is not that easy and requires a lot of energy and some continuous munching to keep you going from one stop to another! And Mutton Cutlets are the best snacks during these nomadic days (easy to carry, tasty as hell and tedious style needed to eat) when all people do is eat and make merry!
8. Keema Shinghara
Source: pinterest
Another snack that sells like hot cakes is the Keema Shinghara. Instead of the usual Aloo filling, Keema Samosas serve as awesome snacks while you watch Rabindro Sangeet or Jatra programmes!
9. Golbarir Kosha Mangsho
Source: blogspot
When you go Pandal-hopping around your city, it takes a toll on your tummy and it starts growling once it's past dinner time! So instead of upsetting it with million starters head in straight for the appetizing Kosha Mangsho Bhaat (Mutton boiled at low heat and added with a gazillion flavours) so that you are ready for the hoopla for the next day again!
10. Patishapta Payesh
Source: sulekha
Source: trekearth
Bengalis have the weakest sweet tooth and there is much more to their list other than Sandesh and Roshogolla! During Pujo days, Pandals have special Patishapta corners to serve the taste buds and the daily Bhog is always accompanied by Payesh which is laden with Kaju, Badaam and Charori.
Already drooling aren't you? Make sure you visit each stall at every Pandal and make the most of each day!
Like our Facebook page to read more!
You can also download Reacho app on Android or iOS to get interesting stories at your fingertips.