Reacho_Header
Drones have emerged as a powerful tool for various applications and that's why the global multi-rotor drone market reported a whooping revenue of $1254.82 million in 2016.
People across the world have found innovative ways to use these drones. Some are buying them just to take some flying selfies, others are using them to supply medical facilities or cargo, while a city is all set to ferry passengers using drones. But, none of these applications are more impressive than what prisoners have been doing for years.
According to a Fox News report, corrections officials across the United States have reported an increase in drones flying over walls and fences to deliver contrabands to the inmates.
Source: thewirecutter
In Michigan, prison officials during last spring found a small toy drone on the grounds of the Charles Egeler Reception and Guidance Center. Although the drone was very tiny to sneak in any illegal goods, officials said that it was probably used to probe the jails defences and security for a future mission.
Similar incidents have been reported in other US states like Oklahoma, Ohio, South Carolina and Georgia to name a few. Not only the US, but other countries around the world such as Russia, Canada, Brazil, Australia, UK, Thailand and Greece are all struggling to keep these devices out.
These drones are used to sneak-in anything from drugs, cigarettes to even pornography. An incident in South Carolina in 2015, brought to the fore the extent of the problem, when a drone was found carrying tobacco, marijuana and cellphones over the prison walls.
Source: entrepreneur
However, in order to tackle this issue, many countries have started different methods.
Canada is already using nets to trap drones before they enter the prison grounds. England has tasked a 'specialist squad' to scrutinise drone use in correctional facilities and has instructed prisons on how to defend against them.
France and Netherlands are practicing some strange techniques by training Eagles to pluck the drones out of the sky.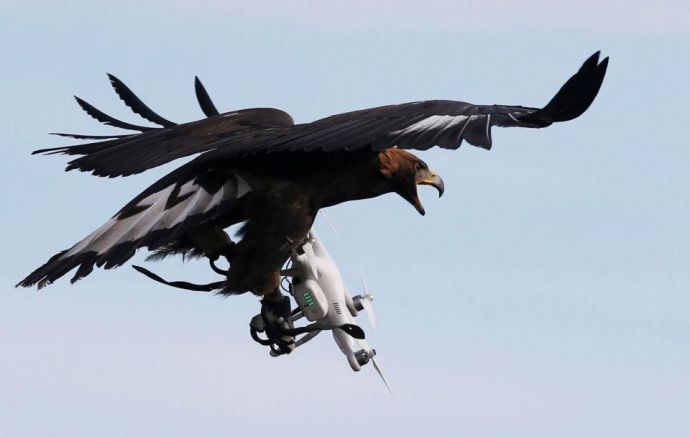 Source: thesun
Information source: dailydot
Title image: ultrarunnerpodcast
---
Like our facebook page to stay updated. You can also download Reacho app on Android or iOS to get interesting stories at your fingertips.