Reacho_Header
The luscious and steamed Dum Biryani with coloured flavors and tang can make it difficult for anyone to contemplate or get curious about the meaning behind the name, but to make it easier for you to understand the great mysteries of the world like this, we at Reacho will explain it to you without much ado!
Source: varanasichefs
Dating back to the early sixteenth century, 'Dum' cooking method was introduced to India by the Mughals. The slow cooking method, also known as Dumpukht, is derived from the Persian word meaning 'air-cooked' or 'baked'.
Source: maunika
Traditionally, Dum Biryani is prepared in a Handi: a heavy bottomed vessel with a lid.
Source: dealocx
Without letting the air pressure leave the utensil while cooking, the Biryani is cooked on a low flame throughout. This method of sealing the ingredients until it is well cooked is known as Dum. The internal pressure is held until the whole of the biryani is well cooked. The lid is sealed to the pot using dough or a wet cloth, causing the internal pressure to increase due to rise in temperature.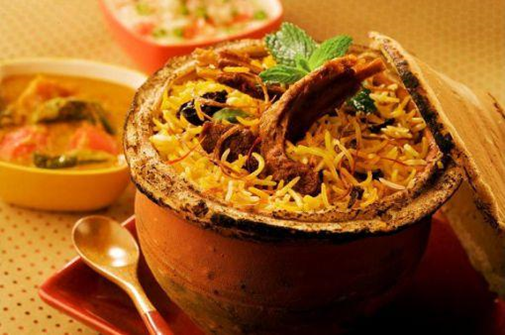 Source: holidayiq
Title image: masala
---
Like our page on Facebook.
You can also download Reacho app on Android or iOS to get interesting stories at your fingertips.