Reacho_Header
Gajendra Chauhan is not an unfamiliar name. After, all that has happened for the last two years, no one can forget Chauhan. It all started when the government decided to appoint him as the chairman of FTII, India's premier film and television institute. With this appointment, Chauhan joined the likes of Girish Karnad and Saeed Akhtar Mirza. Chauhan's joy was short lived when protests started erupting in the campus. Soon after, media along with the students started questioning his credibilities.
But Chauhan paid no heed to this pointless controversy and carried out his work, quite diligently (Well, no!). He made sure that the functioning of FTII is smooth and the classes are conducted regularly (Not really!).
Chauhan also stayed away from making unnecessary statements regarding censorship in India. No, he said nothing about the controversial Malayalam film Ka Bodyscapes.
Source: Giphy
Apart from doing an exemplary work with FTII, Chauhan is known for the following things:
1. For his awesome filmography:
Source: Youtube
Chauhan is most prominently known not for his role as Yudhishthir in B R Chopra's epic television show Mahabharata, but for playing varied characters in films like Jungle Love, Khuli Khidki and Uff! Kya Jaadu Mohabbat Hai.
2. For giving us some (un)memorable characters:
Source: Youtube
From playing a sex-obsessed MCP in Jungle Love to playing a sex-obsessed MCP in Khuli Khidki, Chauhan has bowled us over by his choice of different roles. Also, who can forget his mind numbing..err..mindblowing performances in Rupa Rani Ramkali and Isi Life Mein..!
3. For the time when he told the world that he's pure and pious!
Source: India.com
WHAT???! This dude's even friends with freakin RADHE MAA!
4. For his valuable suggestions about Pak actors
"India does not need talent from outside. Not just actors, but even cricket commentators from Pakistan should not be allowed here. One never knows what sensitive information they take away from here, along with the money that goes out of the country with them," he said in an interview to ET.
5. For the free advice he gave to his students!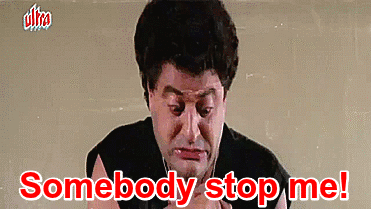 Source: Giphy
"I have always supported the students, even if they opposed me. It wasn't their fault. My only brotherly advice to students is to be disciplined, keep up the hard work and stay away from politics," he said in an interview to HT.
Now that's some great advice from Mr.Chauhan to his stu..umm..ex students. Or protesters?! Well, never mind!
Source: Giphy
Traditionally, the tenure of FTII chairman is that of three years. But Chauhan's remarkable work forced him to wrap up in just one year and seven months. It is rather shameful as the institute will lose out on a creative mind like Chauhan, for sure!
Sir, we wish that we could see more of you, we could have more like you! Thank you for providing us with enough content and entertainment for the last two years. Even if your students won't miss you, the media will surely do!
Source: Giphy
Title image: Starblockbuster, Magnamags, News18
---
Like our facebook page to stay updated. You can also download Reacho app on Android or iOS to get interesting stories at your fingertips.