Reacho_Header
October is here, and while America celebrates Halloween, Mexicans celebrate Day of the Dead. The day of the dead festival, also called Dia de Muertos, is actually the best time for one to experience Mexican culture. Curious about this? We tell you all about this festival which is a cousin to Halloween, or is it the other way round?
Source: fpost
The Day of the Dead festival basically starts from October 31 till November 2. October 31 also marks the Catholic observation of All Saints' Eve.
Source: fpost
On this day, Mexican families remember all the loved ones that they have lost and celebrate this day for them. It's said that people may leave but memories don't and so on this day, all the Mexican families celebrate the loving memories of the dead people.
Source: escapingabroad
Visiting the resting places of the dead, that is cemeteries is a popular practice on this occasion. Unlike Halloween where parties are thrown at people's homes, Mexicans take the party to the graveyard, literally.
Source: eat-travel-love
They also get flowers, pictures , sugar skulls and things that were special or related to the person's life with them to the cemetery.
Source: businessinsider
Oaxaca is a popular destination on the Day of the Dead, since during the festival the whole Mexican city dances and the local vendors sell candy crucifixes. Women are dressed up as "Catrina" who is a famous icon of the festival. Catrina is referred to as the Lady of Death and celebrated in Mexico.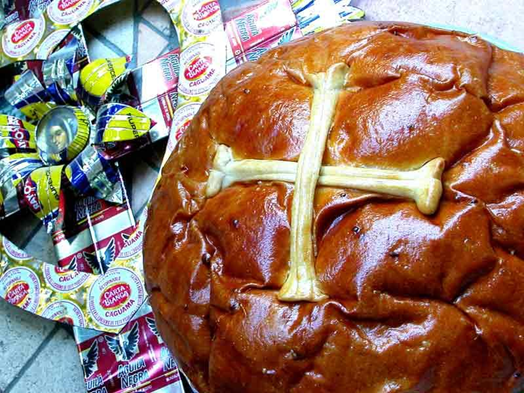 Source: learnnc
Another place to visit on this day is Mexico City. A must-try dish here is the Pan de muerto. Literally meaning "bread of the dead", it is a kind of sweetbread flavoured with orange flower water and other condiments, and eaten with hot chocolate.
Source: huffp
Visiting Pomuch during this period should be on the list of those who are not weak of heart. In Pomuch, many people exhume the remains of deceased family members who have been buried for 3 years. The bones are then cleaned thoroughly and placed in decorated wooden boxes.
Source: eaubergine
Another place to visit is Michoacán; the main attraction being the spectacular celebration at lake Patzcuaro.
Source: outsideofthebox
The celebration here is dedicated to the goddess Mictecacihuatl.
Source: pinterest
People believe that by giving the gifts and talking with them, the deceased will directly listen to them and so they often spend the whole night beside the graves.
Source: breckcreate
This festival is also celebrated in Spain, London and other parts of Europe nowadays, and is a must-visit for everyone looking for a novel experience, as well as an insight into the afterlife!
Title image: 1080
Like our page on Facebook.
You can also download Reacho app on Android or iOS to get interesting stories at your fingertips.