Reacho_Header
We all know how our fathers would react to the news of us having a boyfriend, and it is a known fact that fathers tend to be a more protective about their little girls. While this has been the topic of plenty of discussions as well as jokes and memes, this dotting father of five daughters, is giving us all a new perspective of looking at this sensitive subject.
Writer J Warren Welch recently opened up about his views on being a father to five daughters in a Facebook post, which has gone viral. "I ain't raising no princesses," he says. He wants his daughters to be independent in every sense of the word. He feels that instead of being over protective about daughters, parents should actually make them capable of handling any situation, good or bad.
Being true to his opinions, Welch decided to come up with his own set of "rules" for dating his daughters. Mind you, these aren't your conventional "Mistreat my daughter, and I'll be your worst nightmare!" kind of rules. He thinks his daughters need to make their own dating rules.
"You'll have to ask them what their rules are. I'm not raising my little girls to be the kind of women who need their daddy to act like a creepy, possessive bada*s in order for them to be treated with respect... You will respect them, and if you don't, I promise they won't need my help putting you back in your place," he writes in a social media post.
This post has become a rage on social media, as many people are accepting and supporting Welch's views on parenting. Elaborating his views, he adds, "I understand the urge to protect your daughters, I get that. But the kind of posturing by fathers of daughters I was specifically responding to had nothing to do with that 'protective instinct' and everything to do with asserting their dominance over women and reinforcing a belief that women need men to take care of them."
This is a strong message to all parents to not let their daughters depend on fathers or brothers to protect them; instead, they should teach their daughters that they themselves are all the protection they need.
Welch and his wife are raising two 16-year-old daughters, Ashton and Jade, as well as 13-year-old Darcy, 12-year-old Carmen, and 7-year-old Laney, all from previous relationships, in Jonesborough, Tennessee. Welch said he learns from his daughters as much as they learn from him.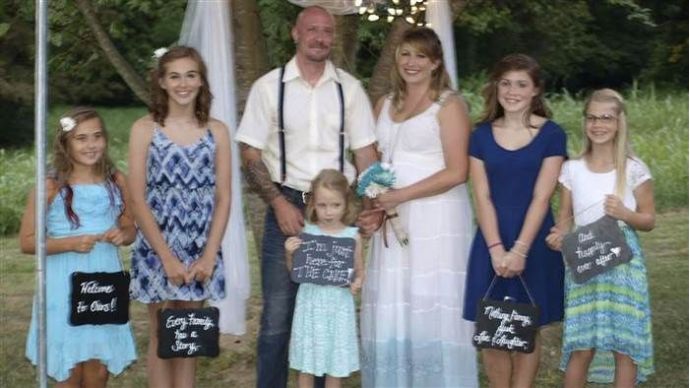 Image source: nbcnews
"I'm going to be real honest here: I've never actually been nominated for a 'Father of the Year award,' contrary to what several coffee cups in my cupboard would lead you to believe," said Welch, in an interview with TODAY Parents.
"That is exactly why I know that my daughters don't need my help making important decisions about their relationships. These girls are my heroes! I was a feminist long before I had daughters, but it wasn't until I was blessed with the task of raising young women that I realized why: these girls are amazing humans, and I can take no credit for that other than the fact that I at least knew that the best thing I could do for them is not try to 'mold' them," he added.
Welch takes the overwhelmingly positive response to his post as a hopeful sign that indicates a change in attitudes towards women.
Cover image source: oddnaari
---
Like our facebook page to stay updated. You can also download Reacho app on Android or iOS to get interesting stories at your fingertips.