Reacho_Header
2017 Christmas is going to be merrier for Mumbaikars as their beloved local will be getting a makeover. Mumbai is all set to get country's first air-conditioned local train.
Yes, taking the local is going to be not only convenient but also comfortable!
Mumbai's first air-conditioned local train will run between the Churchgate and Virar stations at 2.10 pm on Christmas Day, Mid-Day reported.
Western Railway Chief Public Relations Officer Ravinder Bhakar told the daily that the AC service will start running regularly from Monday.
According to the Mumbai Mirror, the Railway Board on Saturday also fixed the fares for the AC local trains.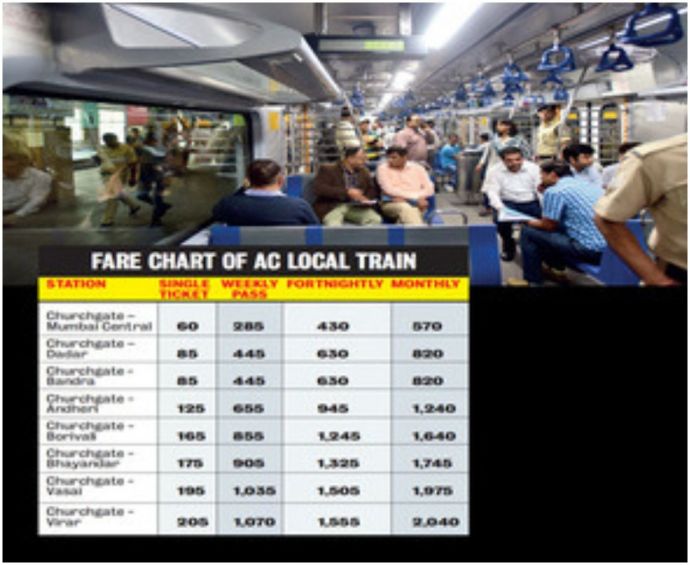 Source: mumbaimirror
An official said, "The train is unpredictable, not sure as to what it will do, hence we will not run the train on weekends as we want to give it a thorough look over during the weekend in most Mahalaxmi car shed."
A one-way trip will cost commuters 1.3 times the current first-class fare, said Mukul Jain, divisional railway manager of Western Railway (Mumbai Central division) said.
However, for the first three months, the ticket will cost 1.2 times the first-class fare, according to Mid-Day.
A first-class one-way ticket between Churchgate and Bandra, on a non-AC local train, costs Rs 70. It costs Rs 140 a trip from Churchgate to Borivali and Rs 170 from Churchgate to Virar.
Cover image source: mumbailive
Information source: hindustantimes
---
Like our facebook page to stay updated. You can also download Reacho app on Android or iOS to get interesting stories at your fingertips.