Reacho_Header
If one had to associate one chicken preparation with Tamil Nadu, it would have to be Chicken Chettinad. What is it about this dish that gives it such renown?
Chicken Chettinad is named after the Chettinad region of Tamil Nadu.
Source: betterindia
This is a region inhabited historically by the Chettiars- a community of bankers and spice traders. As far back as the 18th century, the Chettiars travelled to the Far East to trade in spices. With them, they brought back culinary traditions of these countries, an influence which is still visible in their rich cuisine.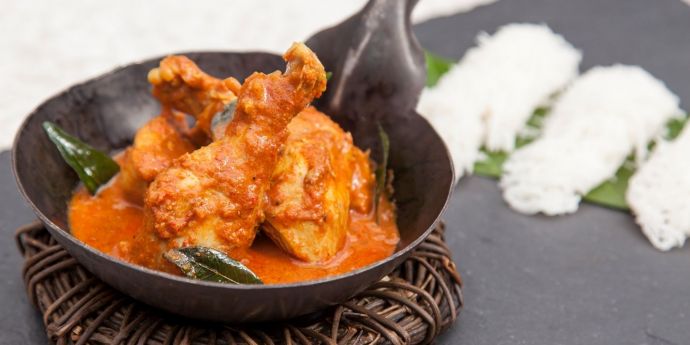 Source: gbchefs
When we hear 'spice', especially in cooking, we tend to associate it with fiery red chillies. But the Chettiar community refined the art of cooking with spices to a sublime level. And it is this magic of spices that lends Chicken Chettinad its distinct flavour.
The overarching flavour in Chicken Chettinad is that of black pepper. Freshly ground black pepper- known among spice merchants of yore as 'black gold'- goes into the curry which has been flavoured with a blend of fennel seeds, kalpasi (a lichen), cumin, coriander, cinnamon, cloves, ginger and garlic.
Source: yummytummy
This painstakingly prepared spice blend lends the dish a heat that is tempered by onions and fresh grated coconut- which forms the base of the gravy.
The subtle pungency of the black pepper is complimented wonderfully by the sweetness of coconut, yielding chicken with plenty of fire, yet a balance of flavours.
Source: bigsrecipe
Served with steamed rice, this preparation is enough to make one fall in love with the place!
Drooling already? Sample some authentic Chicken Chettinad from the grand kitchens of the Chettiars at the Reacho Food Festival.
Title image: swati
---
Like our facebook page to stay updated. You can also download Reacho app on Android or iOS to get interesting stories at your fingertips.