Reacho_Header
She ruled the roost in her primetime, had a whirlwind but kind of secret romance and a blissful marriage. But she went AWOL from the Bollywood scene once she planned to have a baby. It ain't unknown that Adira became the center of her life once she was born so much so, that Rani even disappeared from the social media platforms.
But now that Adira has grown a little, Rani has taken a leap forward and is set to return to the screen with Hichki after a lot of coaxing by husband Aditya Chopra.
On the eve of her birthday, she connected with her fans over Facebook and delved some answers that we have been wanting to know since she had Adira.
As reported by the DNA, Rani seemed quite upbeat about her return.
Here are some real candid answers by her that will prove why people love her so much!
On her comeback…
"Again, that word! Comeback! It's nothing. It's just like any another professional taking a maternity leave/break and then coming back to work. That's exactly what I am doing." She said with full gusto just like a regular mom!
On How Adira has changed her life…
She feels this move is going to be a totally different phase for her. "When I look back now at my career, I feel I was another person. They say a child gives birth to a mother. I relate to that. This innings with Hichki is going to be a new phase in my life as a woman and as an actress. I feel like now I am starting all over again. I am feeling fresh and new. Even the script that I have chosen, I think, it's going to give me a lot of growth as an actor."
On being a mother…
She seemed to be very fascinated with the idea of motherhood and had her own wacky take at it "Carrying a child is such a great feeling. I have not experienced anything close to it in the 22 years of my work life. This feeling is way greater than any feeling I've ever had. All my achievements dimmed in comparison to what I felt when I gave birth to Adira. You know, slowly, I am discovering so many fascinating things in Adira which makes me feel, 'God! why didn't I have children earlier? I would have had more."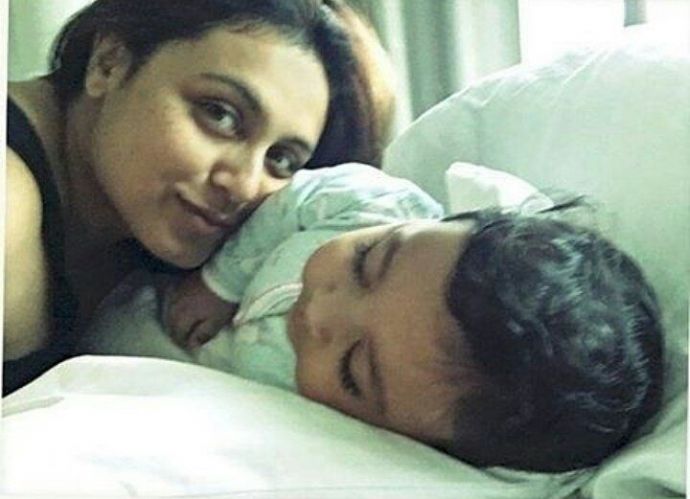 Source: bollywoodlife
She is sensitive and smart and will definitely become a stellar example of being a mother along with her career and she has plans set right for it from now itself. After a lot of convincing her into it by none other than her husband Aditya Chopra, did she give the final nod for Hichki,
"When the script came to me, I wasn't thinking about getting back to work. I really liked the script and said, 'Okay, we can go ahead with it.' It was a process that happened organically. Then it hit me, 'I have to leave my daughter and go to work.' My husband feels if he hadn't have pushed me, I wouldn't have come back. I would be very happy being with Adira whole day long. And that's true. I am most content when I am with my daughter. Right now, she is taking her afternoon nap, so I am comfortable. The minute she wakes up, I will be like, 'Okay, time to go.'"
On Adi being a workaholic…
Rani feels that Adi is too involved in his work but she is getting him to change with time and all is in good faith. "He probably leaves last from the office and now, I am trying to change that because he has to understand he has a child waiting for him at home. Now, every day, I manage his time so that he comes back at a time when Adira has not yet slept. In the morning, he has his time with Adira. He has breakfast with her and he takes her for a walk. I am trying to inculcate that in him, so the bond grows and he keeps teasing me, 'Once Adira grows up, she is going to be my baby and my girl. Enjoy the time now.' He is crazy about her, but I would not say that his life revolves around Adira now. But I would say he is getting there."
Source: youtube
On her husband being a better father…
On being asked whether Adi is a better husband or better father? She blatantly replied, "Adi is a better husband than a father, definitely. Till now at least, and I hope that he remains a better husband. Men become good fathers by default, but it is very important for men to be good husbands. So, I'd want him to become a better husband all his life."
So, on that note we cannot be more than glad that the versatile actress will be back soon!
Title: glamsham
Information source: dnaindia
---
Like our facebook page to stay updated. You can also download Reacho app on Android or iOS to get interesting stories at your fingertips.