Reacho_Header
For those of you who've managed to live so far without knowing what the 'Burning Man' festival is, well, you've certainly missed on something magnificent happening on Earth. But then again, you've got us bringing you all the coolest and you-SO-must-know kind of things!
So dearies, 'The Burning Man Festival', is an annual gathering which takes place in the city of Nevada.
The event is a celebration of art in its quirkiest and in the most radical sense by the people who gather together and form a community of themselves.
The community encourages you to participate and give out selflessly in the form of art, creativity, interactive sculptures, buildings, performances and art cars. The idea is to explore various forms of artistic self-expression and celebrate it without inhibitions.
The Burning Man was first held on the Baker Street in 1986 with 20 participants. Larry Harvey and a group of friends gathered at the Baker Street to mark the summer solstice with a bonfire. They burned a 9 ft wooden man and a small dog. Harvey described the feeling as a 'radical self-expression'. Thus took off the ritual of organizing the Burning Man festival.
Over the years, the Burning Man grew taller from 9 feet to 100 feet.
The participants increased from 20 to 70,000. The placed art erections grew from a few to over 250. The registered theme camp numbers keep sky-rocketing and the themes of the festival are being celebrated with much passion.
This year, the festival was launched on August 27 and is to end on September 4. Held in the Black Rock Desert, the theme this year is 'Radical Ritual'. We bring you some of the mind-boggling pictures and placed art picture from the festival. We best you've never seen anything like this before!
The Exodus of people arriving at the Black Rock Desert.
Source: wikipedia
Aerial view of the 'C' pattern the community stays in.
Source: wikipedia
Satellite image of the Black Rock Desert during the festival.
Source: wikipedia
The Burning Man.
Source: dailymail
The Great Heads.
Source: stuckincustoms
Pouring Acroyoga.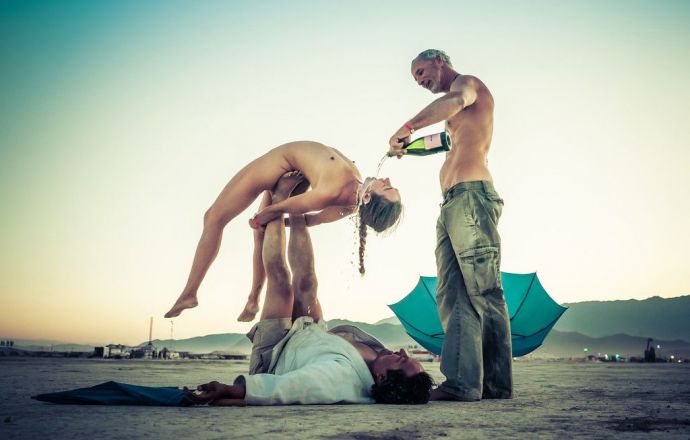 Source: stuckincustoms
Tunderdome.
Source: stuckincustoms
He rises from the desert. This is a great sculpture about becoming conscious and being the awareness inside your mind. You can even crawl in through the ear.
Source: stuckincustoms
Lord Snort.
Source: stuckincustoms
Love.
Source: traxmag
The UFO.
Source: kqed
One of the sculptures.
Source: highexistence
A piece of art.
Source: highexistence
The Trojan Horse.
Source: burningman
People transforming themselves into artforms.
Source: pinterest
And then there's the 'Orgy Dome'.
Source: highexistence
I'm sure I've given you enough reasons to make it to this once-in-a-lifetime of an event.
Thank me later!
Title image: stuckincustoms
---
Like our facebook page to stay updated. You can also download Reacho app on Android or iOS to get interesting stories at your fingertips.