Reacho_Header
Business trips are not always fun and exciting, especially when you have to travel often. Being away from your family, plus eating and sleeping alone can become really monotonous. Shuttling from airports and living alone in your hotel room when you are ideal is the worst thing that could happen to anyone!
But this traveler who was staying in a hotel in Azerbaijan, came up with an awesome idea to beat his boredom.
He started leaving messages for the housekeeping staff by creating people, creatures and even cars created using towels, pillows, and also stuff which was readily available in the room.
The housekeeping staff was truly amazed by the creations and took part in the game.The game continued until the last day of the travelers stay.
We bet you'll love this! So, scroll down to know the challenges.
#1 The first challenge
Source: ntd
It really brought a smile to housekeeper's face
Image source: ntd
#2 The smile continued the next day as well
Source: earthables
A cute smiley in response
Source: earthables
#3 The twisty monster
Source: ntd
#4 Followed by the triangular nose
Source: boredpanda
#5 And something that would escalate your imagination
Source: earthables
But the housekeeper seems to be impressed!
Source: earthables
#6 A Car! This is so innovative!
Source: boredpanda
He got a cheering message, in response.
Source:Boredpanda
#7 When the kid inside you urges to come out!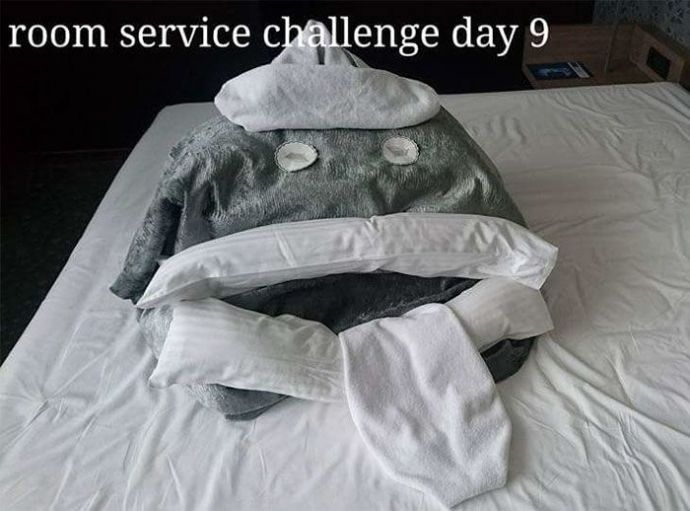 source: ntd
#8 He has really stretched his creative muscles, this time!
source: earthables
Some words of appreciation!
source: earthables
#9 Lastly, the final and heartfelt goodbye!
source: boredpanda
Information source: twentytwowords
Title image: boredpanda
---
Like our facebook page to stay updated. You can also download Reacho app on Android or iOS to get interesting stories at your fingertips.