Reacho_Header
Bollywood actresses have always proved themselves in terms of versatility; their works have often challenged the stereotyped nature of the society.
They believe that a role is a role, and Bollywood actresses have played memorable characters on the silver screen.
Playing a prostitute is not so easy for heroines. To play a prostitute on screen they have to look extremely bold, beautiful and be ready to cast aside conventional ideas of modesty.
As the trailer of Begum Jaan has hit the internet and we saw the jaw-dropping avatar of Vidya Balan in it, we enumerate some memorable roles Hindi film actresses played as prostitutes.
1. Rani Mukerji
Rani Mukerji played a role of a hooker in Laaga Chunari Mein Daag, Saawariya and a courtesan Mangal Pandey: The Rising. All three roles were completely different from each other and Rani made it look stupendous on-screen.
Source: rediff, fanpop, pinterest
2. Madhuri Dixit
Madhuri Dixit became Chandramukhi, the courtesan in Devdas. The film also starred Aishwarya Rai as Shah Rukh Khan's first love interest, but that did not overshadow Madhuri's graceful act. Madhuri also appeared as a sex worker for a song in Yeh Jawaani Hai Deewaani, creating one of the biggest chartbusters of 2015.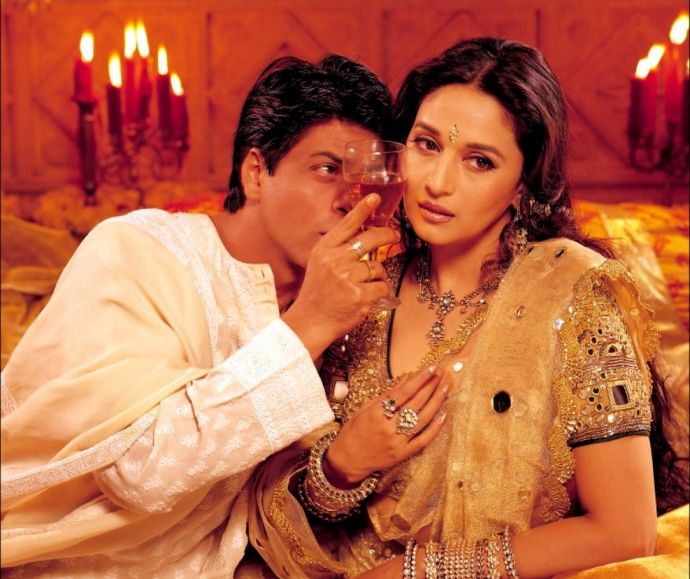 Source: chowdhurysuman
3. Aishwarya Rai Bachchan
Big B's daughter-in-law Aishwarya Rai Bachchan played the legendary courtesan in Umrao Jaan and a bar dancer for a song in Bunty Aur Babli. It is quite a coincidence that when Aishwarya Rai Bachchan played Umrao Jaan, Abhishek Bachchan became her lover in the film, and when she danced to 'Kajra Re' Abhishek and Amitabh Bachchan became her fellow dancers.
Source: blogspot
4. Tabu
Tabu became a gorgeous bar dancer in Chandni Bar directed by Madhur Bhandarkar. The film, released in 2001, revolved around Tabu who was forced to become a bar dancer after her parents' death.
Source: youtube
5. Rekha
Veteran actress Rekha played a role of a courtesan in Umrao Jaan, and a prostitute in Aastha. Rekha is a legendary actress herself, and these roles bear testimony to the fact.
Source: filmfare, pinterest
6. Kalki Koechlin
Kalki's bold look as Chanda was highly appreciated in Dev D. Directed by Anurag Kashyap, the film was a romantic black comedy-drama released in 2009. Kalki's Chanda works as a prostitute at night, while continuing with her studies during the day in the film.
Source: ibnlive
7. Konkona Sen Sharma
Konkana Sen became a sex worker for the 2007 film Traffic Signal. The film was about the life of people who live on the streets and works around the traffic signal for their living. Konkana Sen played a very bold and exciting role, notable for her dialogue delivery and true-to-life performance.
Souce:pycker
8. Kangana Ranaut
Bollywood's Queen Kangana Ranaut played a nautch girl in Rajjo. The film was a romantic musical, a love story of Rajjo (Kangana Ranaut) and Chandu (Paras Arora). The film was released in 2013.
Souce: bollywoodmdb
9. Neha Dhupia
Neha played a sex worker in the film Julie : a role that proved to be her big, although controversial, break.
Source: shine
10. Huma Qureshi
Huma Qureshi played the character of a prostitute in Badlapur. Huma looked stunning in her role as Jhimli in this 2015 revenge drama.
Source: in
11. Sushmita Sen
Sushmita Sen played the role of a prostitute in Chingaari. Directed by Kalpana Lajmi, the film was based on a love story between Chandan (Anuj Sawhney) and Basanti (Sushmita Sen).
Source: activeboard
12. Kareena Kapoor
Kareena became a brothel girl in Talash and Chameli. Kareena always mesmerises us with her acting and gorgeous face. This amazing actor is a vision when she appears on the screen. Her mindblowing performance in Talash opposite Aamir Khan won her many awards.
Source: corallista, indiatimes
---
Like our facebook page to stay updated. You can also download Reacho app on Android or iOS to get interesting stories at your fingertips.