Reacho_Header
Okay, raise your hands if your friends have made you sit through incessant rants about their bosses!
All of us have pretty much been on both the ends of such rants. Thankfully, we might not have bosses as awful as the ones in Horrible Bosses but yeah, every office has that one nasty superior.
According to an article doing rounds on LinkedIn and Quartz, the effects of having an atrocious boss is as bad as smoking in the long run.
Source: giphy
As stated in the American Psychological Association, 75 percent of the workers in the United States have mentioned their 'bosses' as the major reason of stress.
However, 59 percent of the workers having an awful manager don't quit. They rather pull through and keep their heads down, even if they're being ill-treated. The reason being, most people feel comfortable with their current jobs and are lazy to find one with better bosses.
The latest findings on this study will perhaps change the scenario, empowering the workers to push back the torment and tormentors.
Researchers from Harvard Business School and Stanford University collected data from about 200 studies and found that workplace stressful environment has the same ill effects as a passive smoker.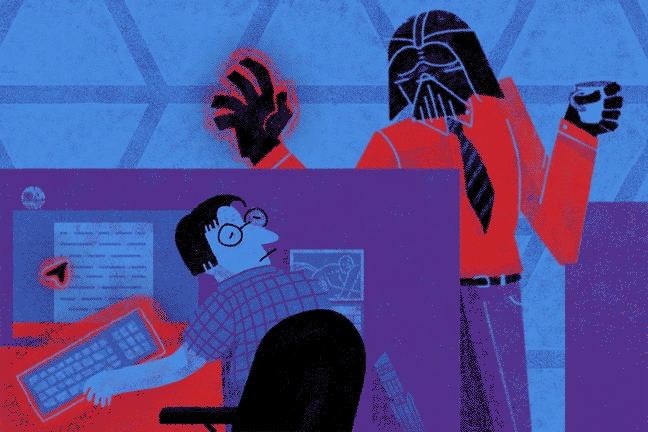 Source: giphy
Yeah yeah, you might say that there are barely any jobs in the market to switch so no point walking up to the boss and tell them to f**k off. Especially not before the holiday season!
But if your boss is a sociopath of sorts, then we totally advise you to move out of the hell-hole. According to BBC, some of them even range from being aggressive, narcissistic and even violent. So if you're dealing with one, you need to take the exit route right now.
The deal is simple. We all spend a standard eight hours a day, five days a week at our workplaces. There's no point going through misery every day just for the sake of money or the long-pending promotion or just because you're too lazy to find another one because you are comfortably settled in.
Life's kinda too short for it!
Information source: ladbible
Title image source: entrepreneur
---
Like our facebook page to stay updated. You can also download Reacho app on Android or iOS to get interesting stories at your fingertips.