Reacho_Header
A legendary film like Baahubali took real efforts to project the story of epic proportions on reel. Every nuance of the film is very well thought of and the characters are brilliantly etched. Even the bindis, tattoos and logos that appear in the film aren't just a mere design, they are symbols that convey meaning that we almost ignored.
But before we dig down further let us tell you the reason behind actually placing the bindi/ tikka on your forehead:
Vedas suggest that our health (physical and mental) is controlled by seven chakras. The sixth chakra, Agya chakra also called as third eye or concealed wisdom is placed between the eyebrows, where usually our bindi is placed.
source: jamerkel
1. The position represents intuition, clairvoyance which also facilitates creativity.
2. It is said that the Bindi placed at this position retains and enhance one's energy by strengthening the concentration power.
3. The other facts reveal that retain the bindi symbolizes auspiciousness and good fortune.
Now that we have enlightened you with this gyaan, based on this we've listed assumptions on the reason behind every bindi and tikka worn by the characters of Baahubali.
Mahendra Baahubali – Serpent and Conch Shell: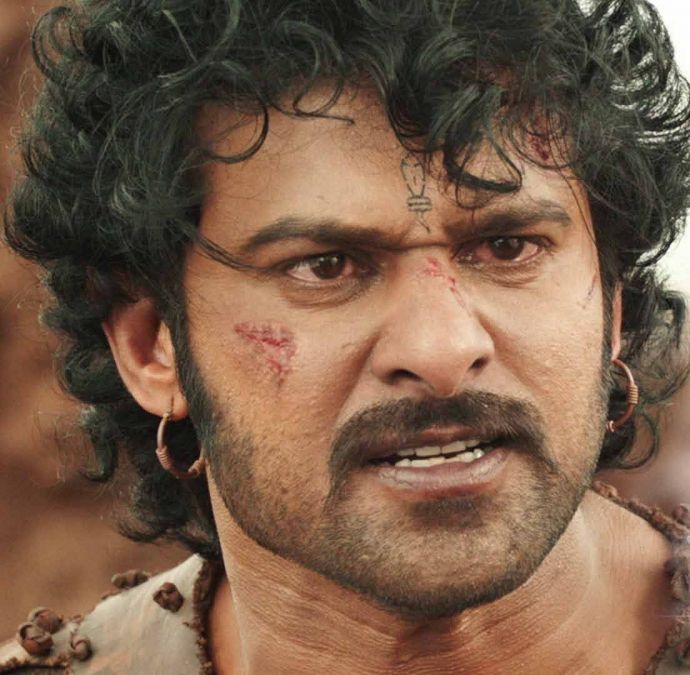 source: latesthdwallpaper
Shiva/Mahendra is shown as an ardent devotee of Lord Shiva. A serpent and a conch shell is drawn on his forehead and left shoulder respectively which symbolizes his love towards God.
Bijjaladeva – Trident
source: youtube
A trishul or a trident in Hindu mythology represents three gunas or temperaments, namely- Sattvika, Rajasika, and Tamasika, where, Tamasik represents qualities like imbalance, disorder, chaos and anxiety- which more or less represent Bijjaladeva.
Sivagami – Full Moon:
source: hindi.firstspot
A full moon placed on Sivagami's forehead depict the dynamic and well-rounded nature of hers. The other trait of her behaviour is like the glowing moon, which represents her affection and care towards her subjects.
Amarendra Baahubali – Half Moon:
source: indiannewsnetwork
Half Moon is considered sacred by most of the religions. Amarendra carries a benevolent personality that is admired by all of Maahishmati.
Devasena – Gender Equality:
source: youtube
Devasena believes in gender equality and so does her bindi which resembles fusion of Male (♂) and Female (♀) gender symbols.
source: globalgoals
Bhallaladeva – Rising Sun:
source: youtube
Sun symbolize power and strength which pretty much explains the role of strong, vicious Bhallaladeva.
Kattappa – Loyal Slave:
source: peppytv
Tattoo on Kattappa's forehead shows his slavery and helplessness. He is loyal towards the throne of Maahishmati and bows down before them.
source: outlawcustomdesigns
Avanthika – Black spear tip:
source: plaeides
Avanthika is a great warrior and her purpose is to achieve the freedom of Devasena. She has turned herself into a weapon for this purpose.
Bhadra – Bull
source: chaibisket
Bull is a symbol of authority, aggressiveness, dominance and stubbornness. Bhadra justifies them all.
H/T: chaibisket
---
Like our facebook page to stay updated. You can also download Reacho app on Android or iOS to get interesting stories at your fingertips.