Reacho_Header
Records are all about pushing the limits, getting out of our comfort zone and breaking the previous histories. Records are se every day by different people all over the world. Every day, if you wake up at 9 am and then one day you wake up at 8:55 am, then viola! You are capable of breaking your own record.
So while you're out there on your couch reading this, we find it our pleasure to take you through these awesome world records that will blow your mind and make you want to set a record too! Let's dive in:
1. Most pubs visited by a man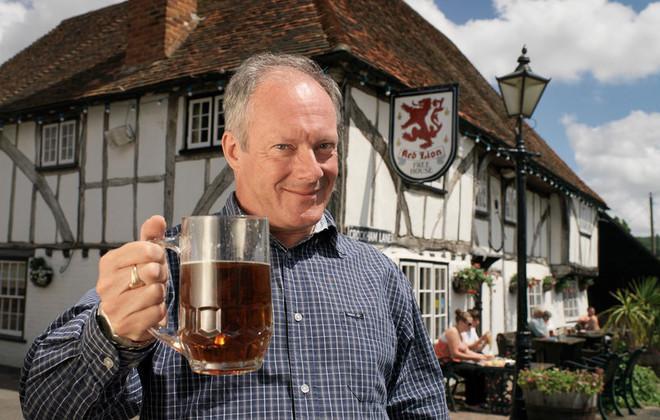 Source: guinnessworldrecords
Bruce Masters (UK) has visited 46,495 pubs and other drinking outlets since 1960.
2. Largest Pizza
Source: guinnessworldrecords
Largest Pizza, having a surface area of 1,261.65 m² (13,580.28 ft²), was prepared by Dovilio Nardi, Andrea Mannocchi, Marco Nardi, Matteo Nardi and Matteo Giannotte (all Italy) from NIPfood at Fiera Roma, in Rome, Italy, on 13 December 2012.
3. Largest hotdog commercially available
The largest hotdog commercially available in Gorilla Tango Novelty Meats (US) weighs 3.18 KG and costs $40 (March 2012).
4. Largest pocket knife
Source: thewondrous
World's largest pocket knife weighs 122 KG and measures 3.9 meters when open. Designed by Telmo Cadavez of Bragança, Portugal, this knife was handmade by Virgilìo, Raúl and Manuel Pires of Portugal, on January 2003.
5. Largest collection of 'Do Not Disturb' hotel signs
Source: thewondrous
Jean-François Vernetti of Switzerland has collected 8,888 different 'Do Not Disturb' hotel signs from 189 countries across the world since 1985.
6. Longest fingernails
Source: Thewondrous
Melvin Booth of Troy had a combined fingernail length of 9.05 meters. Another one, Lee Redmond, who had not cut her nails since 1979, had them carefully manicured to reach a total length of 8.65 meters untill she lost them when they broke off in a car accident.
7. Most t-shirts worn at once
Source: thewondrous
Van Dijck created a world record by wearing 277 t-shirts at once on April 2008.
8. Oldest female table tennis player
Source: Shlok
Dorothy de Low, being 97 year old when she represented Australia at the XIV World Veterans Table Tennis Championships at Rio de Janeiro, Brazil on May 2008, was the oldest female tennis player.
9. Longest beard
Source: thewondrous
Sarwan Singh, resident of Canada, has the longest measured beard of 2.33 meters from the end of his chin to the tip of the beard, as of November 2008.
10. Most big Macs consumed
Source: guinnessworldrecords
Donald Gorske (USA) consumed his 26,000th McDonald's Big Mac on 11 October 2012, in his 40th year of eating Big Macs on a daily basis.
11. Largest chocolate coin
Source: telegraph
The largest chocolate coin weighs 658 KG, presented at the Cioccoshow Exhibition during an event organised by the BF Servizi SRL (Italy) to celebrate Guinness World Records Day, on November 2012.
12. Most expensive whisky sold at auction
Source: Telegraph
The most expensive whisky sold at auction is $460,000 for a bottle of 64-year-old Macallan in Lalique, sold at Sotheby's in New York, US, on November 2010.
13. Tallest drinking glass fountain
Source: Telegraph
Luuk Broos (Netherlands) and his team created a champagne fountain consisting of 43,680 glasses, forming 63 stories, at the Shopping Center Wijnegem, Belgium, on January 2008.
14. Most insured hair
Source: list25
Pittsburg Steelers Safety Troy Polamalu who is also a spokesperson for Head and Shoulders, recently had his hair insured for a mindblowing $1 million.
15. Longest time spent buried alive
Source: List25
Zdenek Zahradka of the Czech Republic survived 10 days buried in a coffin underground with no food or water and only a breathing pipe connecting him to the outside world. The previous record was 4 days.
16. Most push-ups in an hour
Source: Brobible
Super-fit 50-year-old Carlton Williams completed an incredible 2,220 press-ups in an hour, smashing his own previous record of 1,874.
Title image: worldrecordacademy
Download Reacho on Android or iOS to get more interesting stories at your fingertips.
---
Like our facebook page to stay updated. You can also download Reacho app on Android or iOS to get interesting stories at your fingertips.