Reacho_Header
We are all familiar with the over-enthu aunties who are capable of coming up with a perfect "shaadi ka rishta" for you, at any given point. If you are a girl in your 20s you will surely relate to this awkward situation of escaping arranged marriage. As a girl grows up, talks of her marriage start surfacing very subtly. These subtle talks slowly start taking the form of societal pressure as the girl crosses the "critical age" of 26-27.
As it turns out, the arranged marriage scenario isn't very different for Pakistani girls either. But this 24-year-old has come up with the most unique and creative way to tackle this pressure.
5 years ago, when Nashra Balagamwala left Pakistan to study at the Rhode Island School of Design, New York, little did she know that the course she was pursuing would actually help her to come up with an innovative way to deal with the "rishta aunties."
Balagamwala has designed a board game that revolves around arranged marriage and how to escape it.
Source : kickstarter
The game is a medium through which the 24-year-old wants to shed light on the topic of arranged marriage, which is either not talked about openly or taken for granted in the Pakistani society. "I've spoken up about a topic that Pakistanis are uncomfortable with, and now I'm no longer the perfect submissive bride they're looking for! It's great!" she says.
Talking about the societal pressure around getting married or meeting a suitor, Nashra says, "I couldn't accept the fact that I'd have to spend the rest of my life with someone I've only known for a couple of weeks, and someone that was chosen for me based off his wealth, social status and other superficial factors."
Taking inspiration from this situation, she developed Arranged!, a game that encapsulates her own struggle to escape arranged marriage and the experiences of friends who had been forced into loveless unions with people they barely knew.
Source : designboom
"I took examples from the numerous things I've done to get out of an arranged marriage myself, such as talking about pursuing a career, wearing fake engagement rings, having male friends, or getting a tan—darker skin is considered to be less appealing in Pakistani culture—and turned it into a lighthearted game that is both fun to play as well as eye opening," she explains.
How does the game work?
Arranged! has three female protagonists and a matchmaker (Rishta Aunty). The matchmaker's role is to find suitors for these young girls and get them hitched. What do the girls do? They try to escape from the Rishta aunty and thus from arranged marriage.
At some point during the game, the Aunty comes across the Golden Boy. This is when the entire game dynamic switches around, as it turns into a rat race to get married to the dreamy Mr. Right. The girls then start to make their way towards the aunty by flaunting their talents.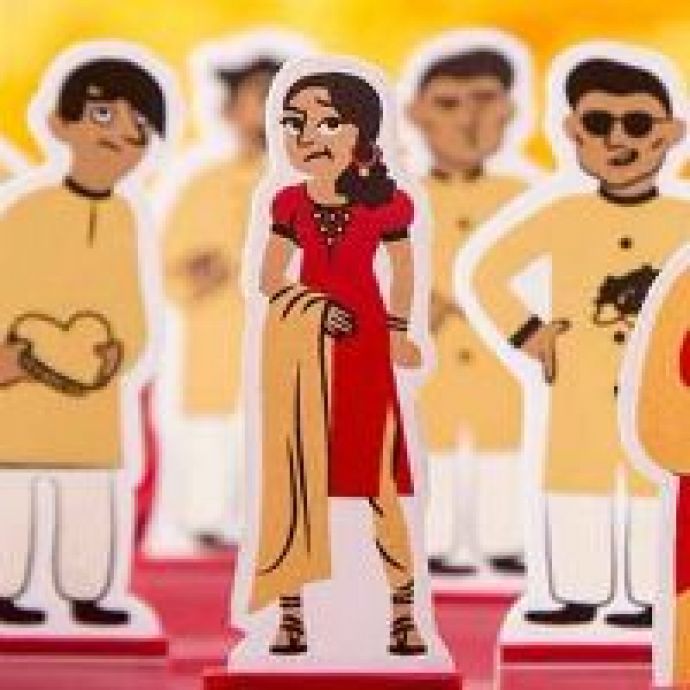 Source : gamasutra
Only one girl makes it in time to marry this Golden Boy, and the rest are hitched off to the mama's boys and womanizers who believe that they're God's gift to humanity.
It is best when played with 3-4 players.
Arranged! ends when all the players are married, either by their own choice or, more likely, by the matchmaker. The game is designed with bright colors and the kinds of lacy patterns that appear on wedding invitations, yet its mechanics underline just how powerless South Asian women often are in these arranged marriages.
"My parents have tried to have me married off multiple times," said Balagamwala. "I want to avoid an arranged marriage without upsetting my parents too much."
Source : hyperallergic
The game provides a fun yet thought-provoking setting to discuss the issue of arranged marriages or forced marriages. "I think it's easier to address it in this setting, because it's more likely that you can get someone to play a fun game, rather than just sit them down and talk about such deep and dark issues. What I've noticed is that at the beginning of the game, players think it's all fun and games. However, they slowly start to realize the deeper issues that are present and have the urge to talk about it." The 24 year old explains.
Does she see herself having an arranged marriage, you might think, to which she says, "If I have anything to say about it, it's not happening! I'm going to keep fighting my way out of it till I meet someone I actually want to marry."
Title image: broadly.vice
---
Like our facebook page to stay updated. You can also download Reacho app on Android or iOS to get interesting stories at your fingertips.