Reacho_Header
On the second episode of Casting Couch With Amey and Nipun, Amruta Khanvilkar proved that she should NOT be messed with.
Amey and Nipun have so far been unable to find a female lead for their ambitious film, and Nipun seems to have given up all hope of ever finding one.
So the duo are trying to rope in the talented dancer actress Amruta in their film. What's the part? Read on to find out!
1. The interview starts with a really sweet fact the "research team" has found out about Amruta:
2. Amey tries to rag Amruta about her early days in a reality show:
3. And Amruta is not one to take it sitting down!
4. Nipun quizzes Amruta about her recent foray into comedy:
5. When things get violent, and painful...
6. When Amey speaks of the 'special bond' he and Amruta share:
7. And this happens…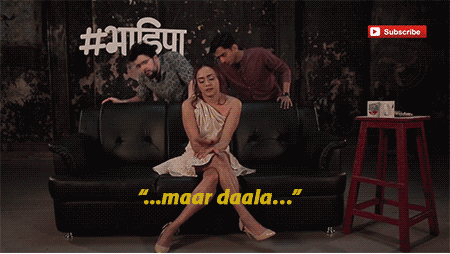 Getting curious? Look for answers in this episode!
---
Like our facebook page to stay updated. You can also download Reacho app on Android or iOS to get interesting stories at your fingertips.