Reacho_Header
Time and again Donald Trump has received flak due his unruly ways. but nonetheless he is now the President of the United States of America!
But before his time Hollywood has already set a benchmark with its terrific superstars donning the hat of the most powerful man on Earth. Donald Trump not only has to step into Obama's shoes but has these wonderfully movie performances to cap as well.
Not exactly guns and roses but these American stories surrounding the President have really set the mark high!
1. Harrison Ford - Air Force One
Source: walmart
It's been almost 20 years since President James Marshall kicked ass in Air Force One and uttered the famous line, "Get off my plane!" but Harrison Ford as the fiery Head of State is considered one of the best portrayals of a US President on the big screen.
All we can say is Indiana Jones was one heck of a president too!
2. Anthony Hopkins – Nixon
Source: nydaily
The Silence of the Lambs star was a terrific Nixon too! Nixon was a fabulously complex, rather unpleasant character, and the President's consistent disdain for the media, his whimsical policies right from the candidacy in California to the Watergate scandal entailed gossip stories of their own.
Hopkins, the actor with finesse that he is, portrayed him to the hilt.
3. Bill Pullman - Independence Day
Source: avclub
Handsome as a hook, President Thomas Whitmore's speech from the movie Independence Day is one of the best speeches ever made that resonate power and might!
"Good morning. In less than an hour, aircrafts from here will join others from around the world. And you will be launching the largest aerial battle in the history of mankind. "Mankind." That word should have new meaning for all of us today. We can't be consumed by our petty differences anymore. We will be united in our common interests. Perhaps it's fate that today is the Fourth of July, and you will once again be fighting for our freedom… Not from tyranny, oppression, or persecution… but from annihilation. We are fighting for our right to live. To exist. And should we win the day, the Fourth of July will no longer be known as an American holiday, but as the day the world declared in one voice: We will not go quietly into the night! We will not vanish without a fight! We're going to live on! We're going to survive! Today we celebrate our Independence Day!"
4. Morgan Freeman - Deep Impact
Source: youtube
Deep Impact undoubtedly featured one of the best movie presidents of all time in Morgan Freeman's Tom Beck, a solemn yet inspiring voice in the face of assured apocalyptic destruction.
It is the end of the world! This is what we are in for if the deep impact turns real!
5. Bill Murray - Hyde Park on Hudson
Source: rushmoreacademy
Now haven't we all been obsessed with the Kennedys and Roosevelts!
Academy Award nominee Bill Murray starred in a historical tale that uniquely explored the all-too-human side of one of history's most iconic leaders with pride and elan. In spite of the fact that the cast was largely dominated by powerful women, Murray as Franklin D. Roosevelt was very memorable.
6. Jeff Bridges - The Contender
Source: movielala
There are speeches you remember and then there are the Presidents you remember! And the Oscar favourite Jeff Bridges gave us one of the finest speeches ever in Rod Lurie's political drama The Contender!
See for yourself!
7. Kevin Kline - Dave
Source: moviemansguide
The lovable imposter acting to be President Mitchell did a great job without any hands-on experience about leading a country.
With Dave, Kevin Kline delivered a fun, heart warming, life- affirming comedy amidst an endearing political background. Though he was not the real President as such but his portrayal, his attitude won so many hearts both reelly and really.
8. James Marsden, John Cusack, Alan Rickman - The Butler
Source: youtube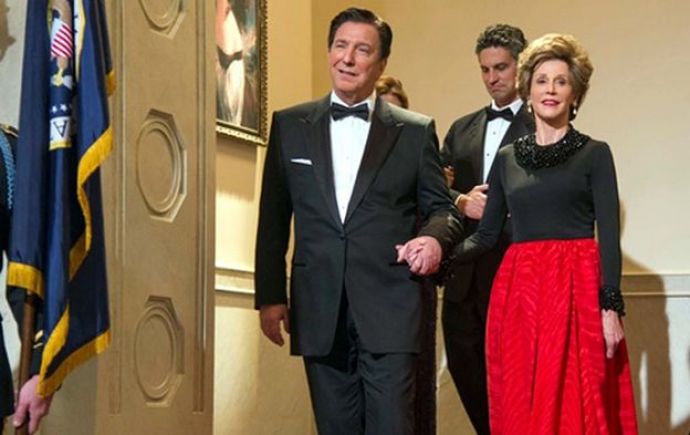 Source: altfg
Source: popsugar
Three Presidents, all a class apart!
Though the story was about the royal help, the presidents made their mark as leaders nonetheless. Now every President has to watch this one! Heck of a commercial documentary.
9. Jamie Foxx – White House Down
Source: movpins
White House Down was the first Hollywood blockbuster to put a Barack Obama substitute in the White House!
Academic in nature, fun with kids or love for his basketball and Jordan, before Obama was elected, Hollywood would never have got away with putting such a young and cool black president in a movie.
Wasn't he the coolest President on screen ever! Shooting terrorists, flying planes running the rover! Jamie Foxx is love!
10. Kevin Spacey – Elvis and Nixon, House of Cards
Source: fansided
With House of Cards, just as people relate to Obama, half the masses can relate to Frank Underwood as well! And why not?
So a little good, a liitle bad, Kevin Spacey has also played Richard Nixon. The shades of the two presidents he played were stark opposite but he mastered both with panache.
"I hope that when people see me in an Oval Office set in this movie they won't think of Frank Underwood. And I hope when they see me as Frank Underwood they won't think of Nixon," he had then joked.
11. Aaron Eackhart - Olympus Has Fallen
Source: collider
If looks could kill and your President happened to be the White Knight!?
A movie made when no one would believe that a white man can be president, Aaron Eackhart played the dashing Benjamin Asher, the President of the United States running a plot with cars and guns displaying a Die Hard in the White House.
12. Daniel Day- Lewis - Lincoln
Source: youtube
The three-time Oscar champion, Mr. Day-Lewis is famously fussy about what parts he takes but couldn't deny this crucial offer from the star director Steven Spielberg!
Without a doubt, Daniel Day- Lewis' enactment of the beloved President Abraham Lincoln is by far the best we have ever seen!
Quite the list isn't it! We wonder what Trump has to say?!
Title image: verbalwar
---
Like our facebook page to stay updated. You can also download Reacho app on Android or iOS to get interesting stories at your fingertips.