Reacho_Header
Words, promises, compromises, relationships and breakups are all the lemons life offers us. While we all know where our problems go 'sour', the 'sweet' management of these problems is what Muramba is all about.
The one gripping role in this movie is that of Alok's (Amey Wagh) father essayed by Sachin Khedekar. Now that Father's Day is around the corner, we have a list of the traits we wished our dads had too!
The 'Chai Pe Charcha' dad:
Alok struggles hard to convince his parents that his break-up is not such a big deal. This is a situation we all face- be it telling our folks about our relationships, or the glitches in them. Alok's dad has a pleasing, friendly way of understanding the troubles of his son. The scene where Alok and his dad are sipping hot coffee in their verandah- solutions pouring over their problems just like the rain in the background- melts your heart!
The 'goofy best friend' dad:
source: marathimovieworld
Every group has that one friend who comes up with quirky plans to make peace between fighting friends. Well, for fighting birds Alok and Indu it is this Dad who, like any friend, makes goofy plans like 'fake encounters' and elaborate lunch plans.
The balancing dad:
source: marathistars
This generation is accused of being a sandwich of some tradition and too much "Western influence"- but one person knows the balance between these two perfectly.
Alok's dad provides a patient ear to his son's problems, but when the time comes to defend his wife, he amicably makes his son realise the sacrifices and compromises the mother made for the family, which we seldom notice.
The dad who welcomes change:
source: marathistars
Imagine you come home at three in the night after a party and the next morning walk your lazy butt down in front of your parents, what would their reaction be? Well, Alok's dad quirks his taunts up by introducing himself to his son- who, given the 'party culture and western influence', seldom meets his dad.
A feminist dad:
source: marathiactors
While he kills it as Alok's dad, Sachin Khedekar is also the perfect father-in-law. He makes Alok realise that these days, it is difficult to find a person who takes the effort to understand you and be there by your side. Indu (Mithila Palkar), Alok's love interest tries to take him out of his comfort zone and be his mirror of realities. This is observed by Alok's dad and thus he makes his son realise that Indu is the fitting partner Alok must feel lucky to have.
The 'bachchan-giving' dad: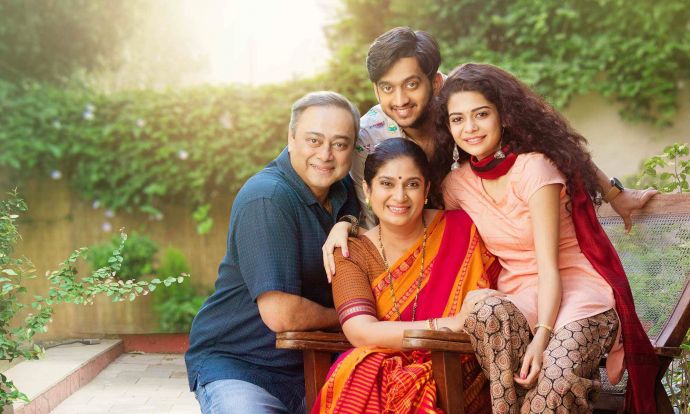 source:marathistars
At the end of the day he is a father and with this words comes the unavoidable fact - dads will give advice. Morals of life, right and wrong, man-to-man talks- if he does not give these to you, he is not your dad. Alok's dad fits the bill of this typical dad perfectly.
Dear Alok's Dad, thank you for helping us realise that dads are simple yet complicated- just like Muramba!
Title image: marathiactors
---
Like our facebook page to stay updated. You can also download Reacho app on Android or iOS to get interesting stories at your fingertips.