Reacho_Header
Our beloved lazy-tabby-orange cat Garfield turns 39 today. Born on June 19, 1978, Jim Davis introduced to the world the coolest cat of the generation residing in a comic strip that holds the Guinness World Record for being the world's most widely syndicated comic strip.
Garfield was popularly noted for his laziness and dislike towards working on Monday and these traits of him perfectly resemble the youth of today's generation!
1. Lazy AF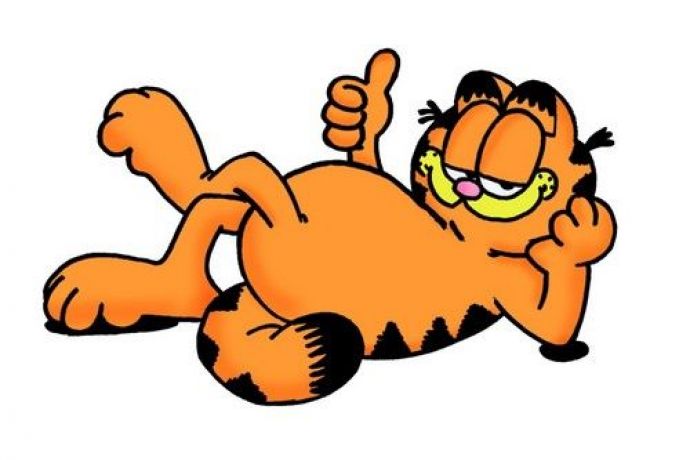 Source: wonderlist
We as youngsters have sorted out priorities in life in our own way. We have a bucket list in our head of things to-do and not to-do, so basically our life is totally sorted, isn't it? But only one thing keeps us away from achieving all our life goals which is... laziness…..
2. Loves pizza
Source: pinterest
The best thing to die for! You have to have cravings for pizza when you see the gooey cheese melting down the golden crust. No matter how many diet plans we make, pizza would always comes and ruins it.
Monday blues:
Source: cartoonbros
It's that day in the calendar which we hate the most from the core. After enjoying the amazing weekend, it's a tough job to drag ourselves towards the pile of work lying ahead of us.
Cynical about everything:
Source: daysoftheyear
It is said that attitude is everything. If you get it right then it's OK but if you get it wrong, you land yourself in trouble. Being cynical is that wrong attitude which we see every individual indulging into. Anyway, who cares!
Rise and shine - It's morning:
Source: pinterest
Snoozing off the alarm and trying to pull yourself out of the cosy sheet seems to be the toughest job for every individual who is not a morning person. With a laid back attitude and drowsy eyes, you somehow start off your day and carry it like that till you become active in night.
Coffee is bae:
Source: garfield.wikia
Now that you have so many Garfield traits in you then you ought to be having a soft corner in your heart for Coffee. Well, coffee is the only thing that can kick you from lethargic mornings, right? Because tea for the young ones out there is a very uncool thing to opt for.
Being sarcastic:
Source: fictionalcrossover
Sarcasm seems to be a new dialect adopted by the folks of this generation. We are so used to it that even if you wish to talk simple that hint of sarcasm will somehow get blended with your tone. But then we've mastered voice modulation and respecting our elders. Sanskars you know!
Title image: pinterest, sveikata
---
Like our facebook page to stay updated. You can also download Reacho app on Android or iOS to get interesting stories at your fingertips.