Reacho_Header
You may have heard of tree houses but ever heard of a tree bar? Well this big baobab tree is named Big Baobab Tree Bar and is located in Modjadjiskloof, South Africa.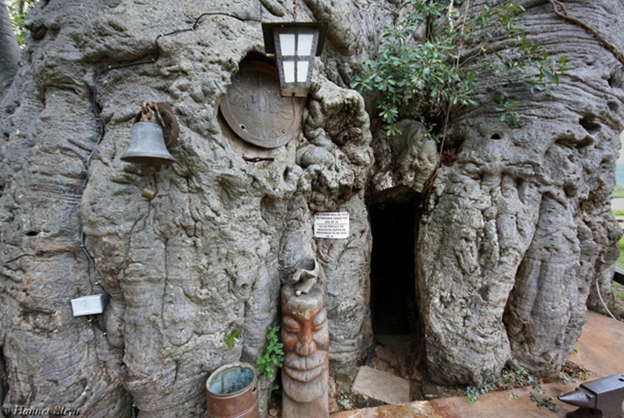 Source: awm
The bar is actually nestled in the naturally hollow trunk of an ancient baobab tree growing on the Sunland Mango Farm in the Limpopo province.
Source: junkee
The trunks of baobab trees, which are widely associated with the folklore and myths of the San people indigenous to South Africa, begin to hollow out after the tree reaches its 1000th birthday. The tree is said to be one of the oldest and has a height of 22 meters.
Source: awm
In 1933, the owners of Sunland farm, the van Heerdens, turned their Big Baobab into a bar, complete with draught beer, beautiful wooden benches, a sound system, dartboards, an outdoor restaurant area, and even a wine cellar below. Indoor seating can comfortably accommodate 15 people.
Source: lostateminor
The dense branches outside of the little bar also provide ample shade for an outdoor restaurant area, where scores of tables are set for special events and meals. Also known as the Pub Tree, the tree branches soar to almost 75 feet and the baobab is naturally split into two connected trunk-like pieces, each with cavernous hollows inside.
Source: awm
The tree has become a major attraction in South Africa so make sure you try a sip at the Sunland Bar when you visit SA!
Title image: junkee
---
Like our page on Facebook.
You can also download Reacho app on Android or iOS to get interesting stories at your fingertips.