Reacho_Header
Sounds bizarre doesn't it? Welcome to India where truly anything can happen! These places in India are open only to people possessing a foreign passport. Wonder why? Then read on to find the reasons behind this special treatment.
1. Foreigners - only beaches, Goa
Source: news18
Some shack owners in Goa believe that Indians have the special talent to make foreigners uncomfortable with their lusty stares. Bikini-clad people are a common sight on any beach in the world, but Indians pass lewd comments at them, thereby ruining a holiday for international visitors. So by making shacks exclusively for foreigners, the owners are saving them from Indian people!
2. Sakura Ryokan, Ahmedabad
Source: sakuraryokan
This is a Japanese hotel and restaurant with a strict "Only for Japanese" policy. There is only Indian here, named Mr. Bhupinder Singh who is the manager of the hotel. When asked about this policy of the hotel, he said that Indians visiting the hotel would pass nasty comments on the staff employed there. The staff, mainly consisting of ladies from North East India, complained of molestation. Unwilling to lose his staff and compromise service, he decided to deny service to Indians two months after the hotel opened.
3. Broadland Lodge, Chennai
Source: indiamike
This is a lodge in Chennai whose services are open only for foreign passport holders. The lodge is more than fifty years old and is known as a highly typical Firangi place. The lodge is cheap for foreigners and Indians are declined entry or at times told that there are no rooms! The lodge was open to everyone till the seventies, but a lot of theft happened and so the owners decided to selectively choose their customers! While the fee per night is only Rs 200 for the lodge they provide only exclusive service, and want to keep their guests safe. Foreigners enjoy the treatment and do come back again and again on this blissful lodge!
4. Foreigners-only Beach, Pondicherry
Source: tripoto
Pondicherry has mixed French and Indian heritage, and sees many international tourists. Just like Goa, some beaches are also said to be exclusive for foreigners in Pondicherry. The reasons may be eve teasing again, or the fact Indians are seen as a threat to the old architecture the seafronts have!
5. Freekasol Café, Kasol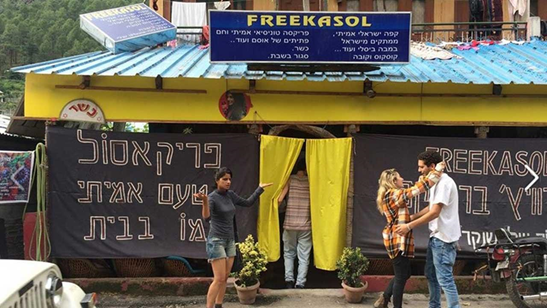 Source: youtube
The café grabbed headlines in 2015 when the owner refused entry of Indians inside the café. Situated in Himachal Pradesh, the café is an Israeli-owned place where the owner declined to serve food to an Indian girl and was not even given the menu. Here's the video too,
6. UNO-IN hotel, Bangalore

Source: uno
The hotel was set up in the year 2012, exclusively for Japanese nationals. The hotel, owned by Nippon Corporation, supposedly refused entry to Indian nationals on the rooftop venues, and the prices in the restaurant were also said to be discriminatory. The Greater Bangalore Municipal Corporation ordered the closing down of this hotel and it has been locked up since!
Title image: youtube
---
Like our page on Facebook.
You can also download Reacho app on Android or iOS to get interesting stories at your fingertips.