Reacho_Header
Imagine living in a place where there is no electricity, no water supply, no food, no internet and there is no guarantee that you will ever come back home to see the loved ones again.
Imagine trying to sleep at night when you are rudely shaken awake by the loud explosion. You gather your energy and run into the bedroom where your children sleep. The room is full of dust and there you see shattered bodies of your children under the pile of rubble. You somehow remove their bodies and rush to the hospital to get some help and there you see available doctors, no pills, no antibiotics. The worst, your kids die one by one in your arms.
Imagine the innocent 6-year-old girl wiping the tears of her mother crying beside her husband's dead body.
Imagine blood shed on the floor, shattered pieces of bodies, decimated apartment blocks, hungry children crying, craving for a piece of bread.
These are the life scenarios of the people living through the hell of Syria's war.
To understand the situation clearly here are 5 things that you should know about the Syria War.
1. Why is there a war in Syria and how did it start?
Source: Medium
The anti-government peaceful protest took place in march 2011 in the southern city of Deraa after the arrest and torture of 15 teenagers who painted the revolutionary slogan on a school wall. The protest quickly become violent as the security forces open fire on the demonstrators killing several civilians.
The unrest triggered nationwide protests demanding President Assad's resignation. The government used forces to control the civilians resulting in hundreds of deaths. By July 2011 hundred and thousands were taking to the streets across the country. Many Rebel groups or oppositions were formed to defend themselves and later to expel the security forces from their local areas. Fighting reached the capital Damascus and second city of Aleppo in 2012.
Meanwhile, IS (Islamic state) formed in Iraq with an extremist point of view and ideologies. The group started operating independently of other jihadist groups in Syria such as the al-Nusra Front, the official al-Qaeda affiliate in the country and had a tense relationship with other rebels. Hostility to IS grew steadily in Syria as they regularly attacked fellow rebels and abused civilian supporters of the Syrian opposition. Now the fight was not just between government and rebels. It was between government, rebels and IS fighting for each other's blood.
2. The intervention by world powers
Source: Mysanantonio
The Intervention of Russia and United states made the situation worst. Russia is one of Syrian President Assad's most important international backers and the survival of the regime is critical to maintaining Russian interests in the country. Russia has blocked critical resolutions imposed on President Assad by UN council and supplied weapons to the military despite the criticism by many countries.
On the other hand, the US has held President Assad responsible for widespread atrocities and says he must step down. But it agrees on the need for a negotiated settlement to end the war and the formation of a transitional administration. The US supports Syria's main opposition alliance, the National Coalition, and provides military assistance to rebels. The missile attacks from the US and Russian military has taken thousands of innocent lives.
3. Impact of war
Source: Nytimes
The UN says at least 250,000 people have been killed in the past 5 years. However, many organisations including UN have stopped updating their figures from august 2015. Syrian observatory of human rights estimates it to be 320,000 deaths. While a research by a think tank estimates it to be 470,000.
To provide help to 13.5 million people inside Syria in 2017, UN will need 3.4 billion dollars. Almost 85% of the population in Syria is below poverty and 12.8 million people require health assistance.
Unsurprisingly, mental trauma affected a large number of Syrians, whether forcibly displaced or not. A 2015 study by Germany Federal Chamber of Psychotherapist estimated that half the Syrian refugees in Germany had mental issues, with 70% witnessing violence and 50% to have been victims of violence. Turkey authorities report 55% of Syrian refugees there needing psychological services and nearly half of Syrian families think that they or their families need psychological support
4. Refugees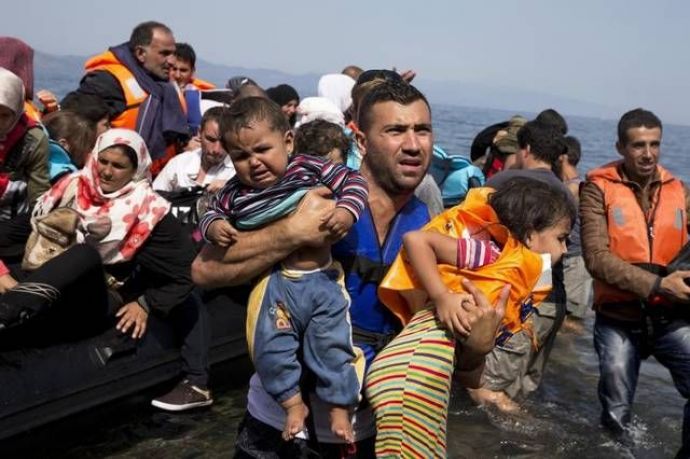 Source: Sacbee
3. 5 Million people - most of them women and children have fled Syria. The neighboring countries have struggled to cope with one of the largest refugee population coming in their country. 6.3 million people are internally displaced inside Syria. Thousands of refugees died due to lack of food and basic supplies. 10% of Syrian refugees have sought asylum in few countries of Europe despite the political division over accepting the refugees.
5. Thousands of children have been separated from their parents or have been orphaned
Source: Unu
One of the most heartbreaking aspects of this crisis is that many children have lost one or both of their parents. Thousands of kids have found themselves without their caregivers. Children born in refugee camps are in danger of being stateless. One thing that I found upsetting is that babies of the refugees often have no birth certificates, no proof of citizenship. So technically nobody knows where the child is born. It is estimated that hundred and thousands of children may have lacked proper documentation. Being stateless can open them up to a lifetime of bureaucratic hurdles at best and leave them vulnerable to trafficking and abuse at worst.
So, this is it… It's insanely crazy. I don't know when it's going to end. I don't know how. What I only know is our thousands of our brothers, sisters, and innocent children are dying every day. Syria has been engulfed in civil war and humanitarian crisis. We as a human race has failed to understand humanity, peace, and love. I just hope that people will understand the situation and come up with help. I hope all of this will come to end. And I hope for a bright future in Syria.
Views mentioned in the article are personal. I have no intentions to disrespect, defame, dishonor any political party, leader, organization or country. The article is based on data mentioned by UN council, New York times, BBC news.
Peace.
Title image: Stuffthatspins
---
Like our facebook page to stay updated. You can also download Reacho app on Android or iOS to get interesting stories at your fingertips.