Reacho_Header
Gone are the teen days, hello adulthood. It is miserable yet magical! You want to feel 22? Here we have for you 22 things you will miss when you turn 22:
1. Waking up without a "to do today" list
Source: giphy
Well, the changing life demands an account of every minute and second. You sure will miss the chilled out mornings when you woke up without an agenda. Now at 22, you even have a list of friends to catch up on Sundays.
2. Maintenance of the Messy Room
Source: giphy
Adulthood sure comes with a pinch of salt. It demands us to be responsible. Gone are the days when the shabby clothes and books were the jewels of your room. It is now time to keep it spic and span.*sigh*
3. Rocking a "bad hair day"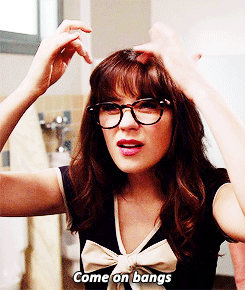 Source: giphy
Those long, shiny keratin strands have their own battles somedays. The only solution is a high messy bun. Alas! You no more are a college chick to go about that way. Now at 22 , it is more about a sober show.
4. Dear Diary
Source: giphy
The memoirs of your "AWW"moments , your secret fancies, plans of your fairytale are now just pages with a pile of dust. Adulthood introduced you to the mirror of realities. Hence, gone is that diary where you inked your figments of creativity and imagination.
5. Ban on casual crush
Source: giphy
No more 'prince charming' , now you search a potential partner. Casual makes no sense anymore because the clock is ticking and your parents are drafting your wedding invitation card.*wink*
6. Cute guys=too young, hot guys=too old
Source: giphy
Oh, life is such a calamity of confusion! The chocolate boys are way too sweet and the mature is batch is boring!
7. Forever alone vs maa ki pasand
Source: giphy
If only parents could chill! You surely will miss the days when you never had to give any answer to your parents regarding your status. Now at 22, it is mandatory to consider their list of potential "jammais".
8. I don't have a PLAN
Source: giphy
You better keep your PPT ON FUTURE ready cause this can no more be your answer. Reason? Now you are 22!*teardrop*. You will certainly miss the days when this was your escape plan to dodge the bullet of 'aage kya socha hai?'.
9. Passion vs promising career
Source: giphy
You will soon have a social status to maintain. Those white collared jobs might come at the cost of your hobbies. It will come to a choice between passion and profession!
10. Rebel without a Reason
Source: giphy
Now every mistake demands an explanation. Those days when you did what you wanted, protested against your dislike are now victims of time.
11. Cool vs Responsible
Source: hypable
Heavy are the heads which wear the crown (in your case, crown of age). You got to stick to the social rules of being a responsible being and somewhere you will surely miss your cool swagger.
12. Chit Chats with Parents
Source: giphy
Your new life makes you set your priorities. The only management hack is to compromise your little talks with your parents. Bye bye 'me' time as well.
13. Do I start using Olay?
Source: giphy
Well there is a special range for 'ladies' in 20s, 30s,and 40s. Why make me feel such an oldie dear? It just gets you thinking about the beauty nightmares. Alas! Johnson baby is just a memory for you now!
14. Drastic Makeovers
Source: giphy
This is no phase to experiment, you better be lady like now! You miss the crazy haircuts, hippy dresses and fancy highlights. Grace and poise better be on your list! #really?
15. Where are my old buddies?
Source: giphy
New days , new social circles. The only way out is to make plans to catch up (plans which never succeed). Thanks to Facebook you atleast know that your old fellas still exist.
16. Travel places checklist
Source: giphy
This list just keeps on getting huge. You have ideas , you have plans, you have internet… but sadly no booking because hey! Its 'focus on your life' time now.
17. Bliss of ignorance regarding Taxes
Source: giphy
Remember the time when you gave no damn to the Economic budget, policies, seventh pay? Not anymore. Your time to earn and pay now.
18. No Reply to the Whats, hows and whens
Source: giphy
Ummm… you are blessed with shoulders to carry your burden. It is not your choice but the charms of growing up!
19. Skip your homework
Source: giphy
School was indeed a place to play an adamant kid! Now you better have a genuine reason for your unfinished project as your job is at a gunpoint. Count your blessings and get to work.
20. Hangouts vs hotshot parties
Source: giphy
You miss your college ka adda and your budget wali Maggie parties! Candle lights and fine dines is so not you, but to whom will you explain that?
21. Pamper your Pet:
Source: giphy
You seldom have time for your beauty baths, so how will you manage your pet? Alas! On those lonely nights you will be left alone hugging your pillow. Your feet no more get the lovey dovey licks!
22. Wine, vine and whine:
Source: wifflegif
Being a big girl now, you must know the difference between wine and vine, but u obviously don't! All that is left is you whine about your miserable condition. Sadly, being a KIDULT is not an option!
Title image: revjon
Download Reacho on Android or iOS to get more interesting stories at your fingertips.




---
Like our facebook page to stay updated. You can also download Reacho app on Android or iOS to get interesting stories at your fingertips.