Reacho_Header
Beaches are one thing, but to dive in a pool enclosed by mountains, valleys, oceans, deserts or lakes; can simply take one's breath away. Between these pools of magnificent splendor and aesthetic backdrop, one could not help but take a dip to spark their aquatic fancy. These pools from all around the world will not only embark your love for swimming, but will also boost your travelgasm. Let's see if you find it difficult to restrict your yearnings! So scroll with us and gaze into these breathtaking pools from all around the globe:
1. San Alfonso del Mar, Chile
Source: nationalgeographic
This oceanfront resort holds the current Gunnies World Record as the World's largest crystalline water pool with an extension of more than one kilometer in length, eight hectares and 250 million liters of water. With the transparent and intense turquoise color of tropical seas, the temperature of the water is maintained to comfort and relax you in every season that you may visit.
2. Amirandes Grecotel Exclusive Resort, Greece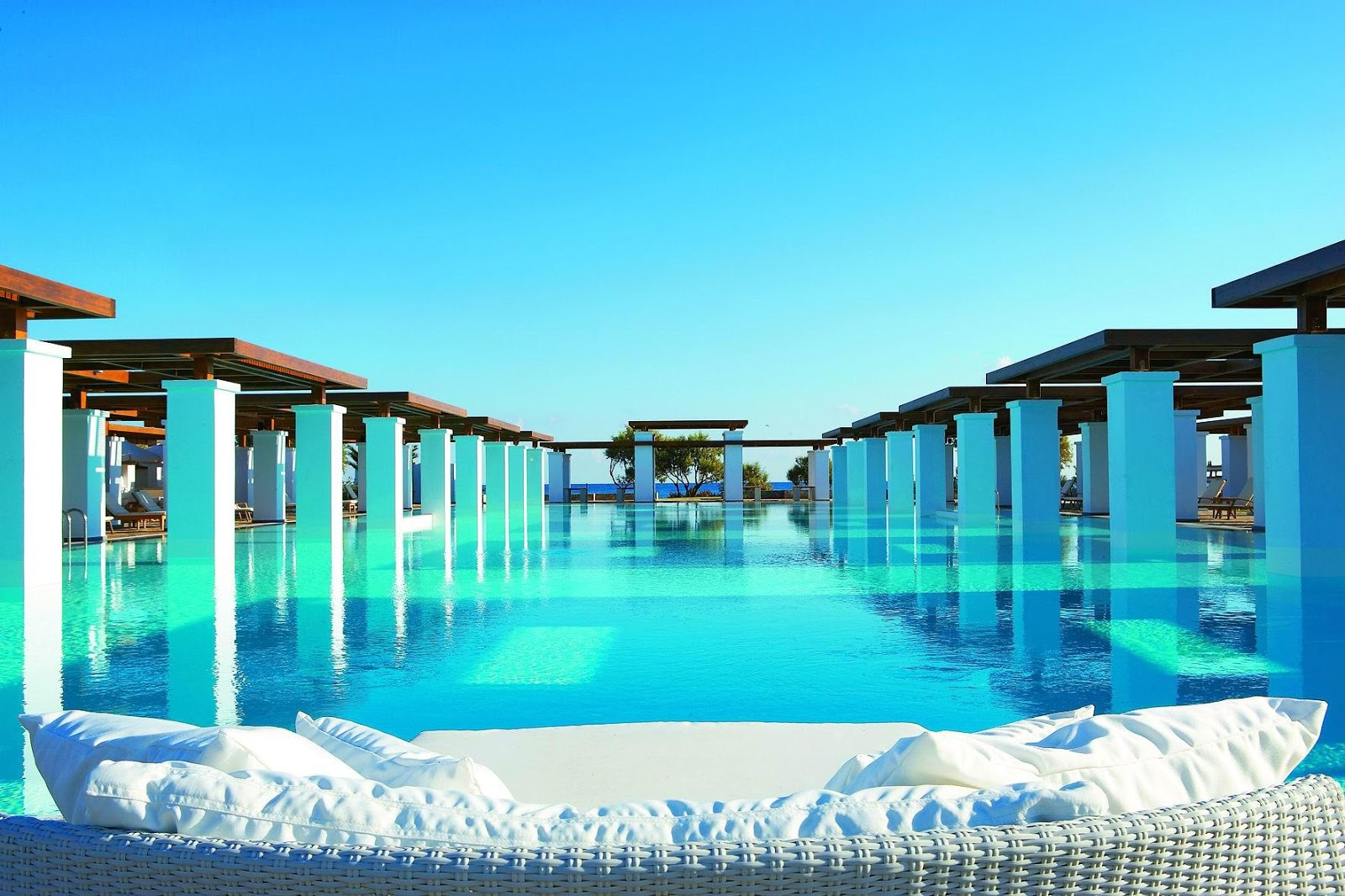 Source: Kyivstar
With three private beaches, indoor and outdoor pools as well as private pools, this exclusive upscale hotel located in a coastal town, will give an air of elegance and measure your bathe in water not only as pleasurable but will also force you to splash around and be drenched in the crystal water and satisfy your aqua cravings.
3. Hotel Hacienda Na Xamena, Spain
Source: themilliardaire
Offering three swimming pools, this resort in Ibiza is suspended 180 meters in the air at the top of a cliff. The suspended waterfalls and the location of a secluded coastline calls in for a captivating and longing experience.
4. Hotel Caruso, Italy
Source: kiwicollection
This luxurious hotel, set on a cliff overlooking the Amalfi coast, is one of the most lavish hotels Italy has to offer.
5. Jade Mountain Resort, St. Lucia
Source: jademountain
Rising above 600 acre beach front of Anse Chastanet, the high end of this resort overlooks the Caribbean Sea: making the breath snatching beauty call out to your insides.
6. The Sarojin, Thailand
Source: sarojin
With an infinity pool with floating pavilions; this opulent hotel-overlooking white beaches- also has candlelit waterfall, Beach sightseeing & snorkeling trips and activities at your rescue!
7. Glenwood Hot Springs, Colorado
Source: tourism-spot
The exclusive Colorado destination with world famous natural hot springs pool, is the largest hot spring facility in the town! The big pool contains within itself one million gallons of mineral water, which is supplied from the Yaampah spring, which is one of the hottest springs in the world. The huge size and the hot temperature of the water makes it ever more relaxing, rejuvenating and one hell of an experience!
8. Elounda Gulf Villas and Suites, Greece
Source: beleontours
This luxurious hotel in Crete Island is situated close to Elounda beach and consists of private pools, private beach access as well as hot tubs. Villas with infinity pools, and views overlooking Mirabello bay, one cannot help but admire astoundingly.
9. Huvafen Fushi, Maldives
Source: simplymaldivesholidays
Set on an island surrounding palm trees, this luxury beach resort has direct access to beach, open air bathrooms as well as waterfalls showers. The sunset facing pavilions, live boats, Jacuzzis, water sports as well as seaplane flights add up to the magical and lively experience in here!
10. Hotel Astarte Suites, Greece
Source: letsshall.blogspot
These deluxe suits set on a cliff top overlooking two different seas offer mosaic-tiled whirlpool tubs with crystal-studded domed ceilings, hot tubs as well as private infinity pools.
11. The Manta Resort, Zanzíbar
Source: themantaresort
The floating hotel room with underwater bedroom, The Manta resort offers an extraordinary experience. Yes, you heard us right! The underwater bedroom with floating structure provides three levels: sea level, lounging area at roof and the edge of their own galaxy (the wonderful milky way) and a heart-stopping and magical experience!
12. Blue Palace Resort & Spa, Greece
Source: bluepalace
This upscale resort has private pools and sitting areas. Ranked #5 of 36 hotels in Elounda and nestled in the coastline of Elounda on the island of Crete, Blue palace offers sunbathing on private pebble beach and three sparkling outdoor pools as well as two separate children's pools with impeccable sea views: everything making it perfect for your travel spark.
13. Domes of Elounda, Greece
Source: domesofelounda
This beachfront resort facing Aegean Sea offers outdoor pool, private pools and also beach access. One of the unique and notable hotels in Elounda, it offers amenities, underground passages, sail-entrances and watersports to make you rejoice your holiday like a celeb!
14. The Cambrian, Adelboden, Switzerland
Source: Premiumswitzerland
A luxury hotel that looks out onto one of the world's most spectacular landscape- this upscale hotel is surrounded by Swiss Alps and offers both indoor and outdoor pools with overwhelming mountain views in every direction!
15. The Library in Koh Samui, Thailand
Source: thelibrary
Located in the heart of Chaweng Beach, The Library is built with a stunning concept, designed as an outpost of elegant reading. Its signature red pool is selected as one of the world's most spectacular hotel pools: the mosaic tiles of orange, yellow and deep red makes it evermore dazzlingly classy.
Which one did you add to your go-to list?
Title image: Luxuryaccomodationsblog
You can download Reacho app on Android or iOS to get interesting stories at your fingertips.