Reacho_Header
They gave the world the greatest gossip when rumors of a blooming romance between these stalwarts began during Mr. and Mrs. Smith. And a decade later, after parenting six kids they were still the paparazzi favorites whether it be Brad's image of a doting husband and father or Angie's bold mastectomy and her UN goodwill endeavors. But troubles entered their paradise and 2016 saw the couple split, a couple all thought would last forever! Here's a look at how adorable the two were over the years of their long courtship followed by two years of marriage:
Source: today
2008
"I get up some mornings and gasp."
Source: hitfix
2010
"I'll talk to my family. I talk to Brad Pitt... I don't have a lot of friends I talk to. He is really the only person I talk to."
2011
"I am very lucky with Brad. He is a real gentleman. He's got the wonderful balance of being an extraordinary, great, loving father, a very, very intelligent man and physically he's a real man."
Source: ibtimes
2011
"I'm still a bad girl. I still have that side of me…it's just in its place now… it belongs to Brad. Or … our adventures."
2011
"There are no secrets at our house. We tell the kids, 'Mom and Dad are going off to kiss.' They go, 'Eww, gross!' But we demand it."
Source: bustle
2012
"She's still a bad girl, delightfully so. It's not for public consumption."
2012
"[Brad] has expanded my life in ways I never imagined. We built a family. He is not just the love my life, he is my family. I hold that very dear. I suppose what I've learned from Brad is to be able to have the kind of family whose happiness and well-being comes before your own. I'm very very grateful to have such a loving family, and I wouldn't have that without him."
Source: ibtimes
2013
"The kids asked me the other day and I asked them if it was just because they wanted to have a big cake. They see movies that have the people getting married in the movies or somebody's, you know, the happily ever after. Shrek and Fiona are married. ... We've explained to them that our commitment when we decided to start a family was the greatest commitment you could possibly have. Once you have six children ... you're committed."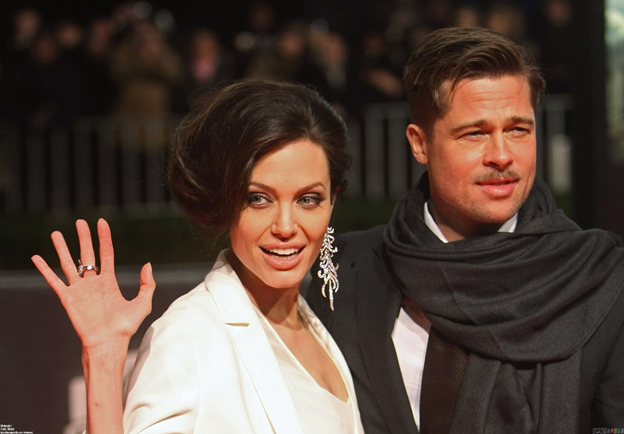 Source: dlb-network
2013
"One of the greatest, smartest things I ever did was give my kids Angie as their mom."
Source: ibtimes
2014
"It's such a beautiful and sexy quality in a man when he takes his responsibilities as a father very seriously. I still get very emotional when I watch Brad play with the children—he is so naturally devoted and joyful around them."
2014
"You get together and you're two individuals and you feel inspired by each other, you challenge each other, you complement each other, drive each other beautifully crazy. After all these years, we have history—and when you have history with somebody, you're friends in such a very real, deep way that there's such a comfort, and an ease, and a deep love that comes from having been through quite a lot together."
Source:
womansday
2015
"Not a lot of people get to see a movie where their parents fell in love. What's going to be funny is when they think Mom and Dad are a little bit cool. Because right now, we're not cool Mom and Dad."
Well, we think that somethings last forever however, not always! *sigh sigh*
Title image: galoremag
---
Like our page on Facebook.
You can also download Reacho app on Android or iOS to get interesting stories at your fingertips.