Reacho_Header
She entered our hearts right from her childhood and became a teenage sensation in no time. Today her net worth is $10 million and she is among the highest paid actors in Hollywood, and deservedly so. She is smart, sexy and in a league of her own. Here are 10 reasons which make the pop star so popular with her fans:
1. Barney and her Friends
Source: betches
Well she began young and has been around for quite a while. She started as a child artist at Barney and Friends which is a huge favourite with the kids.
2. The Wizards of Waverly Place
Source: indipepper
After cameos in Hannah Montana and The Suite Life of Zack and Cody, her stint as Alex Russo in Wizards of Waverly Place finally registered her as a teenage icon.
3. Dr. Seuss who?
Source: boomsbeat
Gomez voiced 90 Whos in Horton Hears a Who, starring Jim Carrey and Steve Carrell. She voiced all of Carrell's 90 daughters in the flick, but never actually got to meet the actor. "It was kind of a bummer!" she said. "I want to see him and say 'Hey, I played your daughter!'"
4. Monte Carlo
Source: pint
The Disney find is a fine actress and after Waverly Place, she did a good job in the movie, playing a double role and also mastering a bit of the British accent.
5. Love you like a love song
Source: pint
She is an ace solo musician with gold and platinum albums to credit. Her hits like Slow down, Naturally, Who says and This one topped many charts for many weeks.
6. Upright Badass
From rumours that she was pregnant to rumours that she had spun out of control, she dealt with them like a pro as not a single headline was true.
She recently fired her mom. Her mom had been her manager up until now, but now she wanted to make decisions more independently.
7. Style Icon
Source: justjared
She is good dresser no doubt, but she is a business-minded fashionista with her own clothes line Dream Out Loud and her Fragrance Selena.
8. Gal pals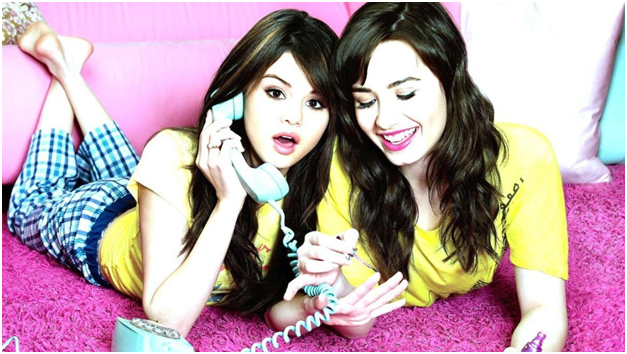 Source: ppcorn
Source: pint
Instead of cat fights and petty rivalry that female contemporaries have, Selena is best friends with singer Taylor Swift and her strong bond with peer Demi Lovato is also known.
9. Instagrammed it right!
Source: blackgirlhealth
She became the most-followed and the most-liked person on Instagram, as one of her snaps hit more than 4 million likes on July 12. And to top it all off, Selena beat out Justin Bieber with her major Instachievement!
10. Jelena
Source: ibtimes
Gomez and 'Baby' hitmaker Justin Bieber made their official debut as a couple at the 2011 Vanity Fair Oscars afterparty wearing colour-coordinated ensembles on the red carpet and had been a treat for the paparazzi since. They were on and off but split in 2013. Gomez is focussing on her career, rather than love, right now. However, when Elle magazine recently asked her whether she would ever rekindle her relationship with Bieber, she said, "I don't know!"
We wish you a very happy 24th Selena, and we are still rooting for Jelena now aren't we?
Title image: gamespot
Download Reacho on Android or iOS to get more interesting stories at your fingertips.
---
Like our facebook page to stay updated. You can also download Reacho app on Android or iOS to get interesting stories at your fingertips.