Reacho_Header
The colourful Rakhis, bright red Tikas on the foreheads of long-distance-traveled relatives, the finely decorated Pooja thaalis, the sweet laddoos sweetening years-long bond, the red-flushed cheeks and the full teeth-showing smiles that spread to the eyes, the added one rupee to the whole sum of kharchi and the unspoken words & gestures of never-ending love: Raksha Bandhan brings with itself the distant brothers & sisters together and leaves with year long memories.
But, how can we forget the whole year spent with brother pulling his sister's leg and sister pulling pranks at him instead? How are they to spare each other for that one special day of the year?
Say no more! We got these hilarious gifts you can give your sibling this Rakhi and have no regrets because they're probably planning and plotting some evil plan against you anyway:
1. Letters from their future self
Source: soalaina
You can write (if you can try mimicking their handwriting) or print some letters from THEIR future selves and surprise them with some honest confessions and precautions.
They'll owe you big.
2. Grumpy Cat Mug
Source: craziestgadgets
How beautiful will be those mornings when they will wake up to drink coffee/tea in this grumpy cat's cup screaming a big fat NO to them each time they open their eyes.
So much win. Each. Morning.
3. Make a temporary tattoo of their name and tell them it's permanent
Source: justeuntattoo
The best way you can make them jump with excitement and terror is when you print a temporary tattoo of their name and tell them, nay, assure them that it's permanent.
Maybe they'll lose their minds, but it'll be totally worth it.
4. Princess Leia hat
Source: bleuarts
How better can gifts get? This beautiful (not funny or weird at all) princess Leia Hat is so perfect that it'll make them look as flawless and beautiful as a princess (not making them look like a lost alien on the planet earth at all). Perfect, they'll love it.
5. Emergency crown nose
Source: Swiss-miss
Gifts are valuable. And those gifts that will help your siblings at the time of unannounced emergencies are worth every penny of your time (selecting it) and money (buying it). And when we talk about gifts that can be used in emergencies, an emergency crown tops the list.
After all, there can always be emergencies wanting you to become a clown, right?
6. A growth chart
Source: Famlii
It doesn't matter if your sibling is six year old or forty-six year old: a growth chart is an ever-green gift. They can always check their height and assure themselves at anytime of the day that they're growing.
7. Letters from Santa Claus
Source: easyfreesantaletter
Santa Claus comes every year on the same date to give you gifts you've always wanted. You can sit on his lap while he sings (or laughs) 'Ho Ho Ho!'
So what is better than giving your sibling letters from Santa?
8. A Flying Nemo
Source: Vat19
Finding Nemo is now an old story. Refresh it by gifting your sibling a Flying Nemo!: A remote controlled Nemo that is capable of flying. How cool is that!
9. A photo frame of yourself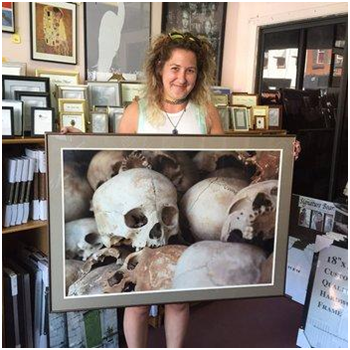 Source: Yelp
In the blistering world of technologies, how can you make your siblings remember you everyday without you calling/texting them? Give them a photo of yours framed, or better, give them a photo framed of something so queer that every time they look at it, it reminds them of you.
Worth. Every. Penny.
10. Give them a big key to an imaginary car
Source: Extralast
Gift them a biiiig car-key and let them react to it. After they've calmed down, tell them that you could only afford the key and that you would try and get them the car some years down the lane (don't promise because you know you can't keep them).
And then run. Run fast because they might as well come after you with that same key to stab you.
Happy Raksha bandhan, everyone!
Title image: Rookiephotographer
Download Reacho on Android or iOS to get more interesting stories at your fingertips.
---
Like our facebook page to stay updated. You can also download Reacho app on Android or iOS to get interesting stories at your fingertips.